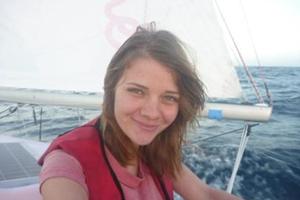 Teenager Jessica Watson continues to battle huge swells but has rounded the final cape on her long voyage into the record books.
Wild weather has been battering the 16-year-old on her final run to the finish line in Sydney.
After a very rough few days being pitched around in angry, white seas off Tasmania, Jessica on Monday excitedly blogged: "The last cape!"
She added: "Ella's Pink Lady and I have made it around the South East Cape of Tasmania and we're now headed north on the final leg to Sydney!"
Jessica has passed the 22,000-nautical-mile mark on her bid to become the youngest person to sail solo, non-stop and unassisted around the world.
Just 1000 odd nautical miles remain.
Her homeward run has been far from easy. Treacherous weather has been pounding her for the past week, throwing her around inside her small yacht and leaving her with bruises and sore muscles.
And the battle is not over yet, although the weather bureau says conditions will ease slightly.
"Considering what she's been through in the last 24 hours, it is going to weaken a little bit," forecaster Dennis Luke told ABC Radio.
"But she's still going to experience 30- to 40-foot waves over the next 24 hours."
In Monday's blog, Jessica said the hardships she'd faced over the past week had made rounding the tip of Tasmania a very satisfying experience.
"I never expected rounding Tasmania to be much of a big deal, but all of last week's struggles made finally getting around the cape 10 times sweeter," she wrote.
"I'm also thrilled to be headed north into warmer temperatures again ... with a bit of water on your hands, this wind only takes a few minutes to make your hands go numb when working on deck."
Jessica is expected to sail into Sydney Harbour around the middle of this month.
- AAP