Roy and Ted Brock on their visit to Anzac Cove, where their father landed to fight in the Gallipoli campaign in 1915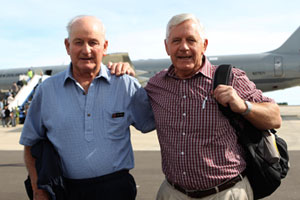 Ted Brock, 73, Torbay
"I read my father's diary this morning for December 12, 1915. He was returning here from Lemnos, landed here [Anzac Cove] and went along the beach to Outpost No 2.
"He said there was gunfire throughout and heavy shelling all night. It's quite moving really to walk where he's walked and see where he'd been.
"We didn't get out to No 2 or No 3 Outposts where we knew he was, but I knew he was at Quinn's Post and places like that, so I've been there. It was so good having Ian McGibbon, who's quite an expert on Gallipoli, give the tour of the battlefields.
"You could walk here forever but still not quite understand it without someone like him to point out the positions and how tenuous their hold was and how close they were to the enemy.
"I got two pebbles, one each for my son and daughter, but you're not supposed to say."
Roy Brock, 78, Palmerston North
"It's a strange feeling walking along the beach and knowing Dad walked along it 95 years ago. In some ways it's a wonderful feeling to be able to come, but by the same token it conjures up lots of memories of the family over the years and how his war service affected the family, particularly when we were growing up, because he was not there.
He died, not in the war but of pneumonia later.
The cemeteries are beautifully kept and there's something about these kind of cemeteries, a certain eeriness I suppose.
It's very quiet, a bit like in the old days libraries used to be very quiet places and I think cemeteries are a bit like that because people have their private thoughts when they walk into these places.