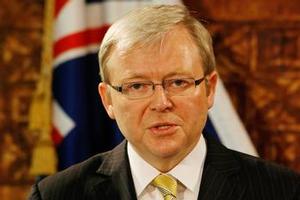 CANBERRA - Prime Minister Kevin Rudd has locked key reforms to the ailing public health system into the strategy he is building for this year's election by convincing all but one of the states and territories to sign up to new A$20 billion ($25 billion) package.
Even with Western Australia - the sole Liberal-governed state - opting out, Rudd pulled a large political rabbit out his hat when he wore down resistance to his plans with a combination of threats, cash and endless argument.
But exactly what he achieved at this week's leaders' summit in Canberra has yet to be fully understood.
Rudd promised more than A$5.3 billion in extra funding over the next four years, plus a guaranteed minimum of A$15.6 billion in top-up funding for public hospitals.
The A$5 billion will have to be squeezed from a May budget that is already being wrung dry to pay for existing spending commitments.
Rudd also made huge compromises, shifting significantly away from his previous determination to shove the states aside in a federal takeover of key health services.
And he has yet to win Opposition support for legislative changes that will be needed to implement the reforms, complicated by possible legal arguments over the deal's validity flowing from WA's refusal to sign up.
Liberal leader Tony Abbott has not yet committed the Opposition to any real position on the package, other than a promise to consider the related legislation when it goes before Parliament, and a broad condemnation of the deal as Rudd welching on his promise of a nationally funded and locally run hospital system.
Abbott will continue to use his numbers in the Senate to block Rudd's plans to means-test a tax rebate applying to private health insurance, which would provide an estimated A$1.9 billion in savings that could help pay for the new package.
Politically, Abbott would be on thin ice if he was seen to be wrecking the reforms.
The nation's health system has been in serious decay for years, with declining services, long - and sometimes fatal - delays in overcrowded emergency rooms, and long waiting lists for surgery.
A recent Nielsen poll found more than 60 per cent of voters backed Rudd's plan.
Abbott's brief honeymoon as new Opposition leader appears to have ended, with a Newspoll in the Australian this week showing that satisfaction with the way he is handling the job peaked in late February and has now slipped to 48 per cent.
Abbott is also trailing Rudd as preferred prime minister by 25 points, and Labor continues to attract a strong 54 per cent to 46 per cent lead in the two-party preferred vote that determines Australian elections.
Rudd had promised to overhaul the health system by taking 30 per cent of the states' GST funding, adding its own money and distributing it directly to regional health boards.
He warned that if the states did not agree he would call a referendum on the issue.
The states had a number of reservations, including the loss of their control and fears that handing over part of the GST due to them under the agreement forged before the tax was introduced in 2000 would open the floodgates.
Rudd went into this week's summit on Monday against powerful opposition and outright rejection by WA, New South Wales and Victoria, but in the end, NSW and Victoria were won over by the extra cash, and negotiations will continue with WA.
The extra A$5 billion will be used to provide 1300 new sub-acute beds, more than 6000 new doctors, 2500 more aged-care beds, reforms for mental health services and help for 20,000 extra young people to access them.
The reforms promise to cut emergency room waiting times to four hours at most, and to deliver elective surgery on time for 95 per cent of patients.