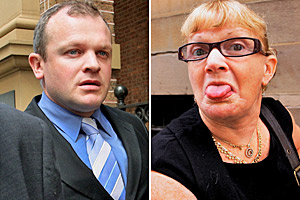 Mark Wilhelm may have been technically and morally responsible for Dianne Brimble's cruise ship death.
His behaviour may have been "bad, loutish or even insensitive".
But Justice Roderick Howie said Wilhelm was not legally responsible for the Brisbane mother-of-three's manslaughter.
In the NSW Supreme Court, a manslaughter charge against Wilhelm was today dropped by the Director of Public Prosecutions.
"Can I say, I wholly support the decision that's been made," Justice Howie told the court.
Ms Brimble died in September 2002, less than 24 hours after she boarded a P&O cruise ship on a "holiday of a lifetime".
A coronial inquest spanning 16 months led to charges being laid against Wilhelm, in whose cabin the 42-year-old's body was found.
The seven friends with whom Wilhelm boarded the cruise ship - Letterio "Leo" Silvestri, Matthew Slade, Dragan Losic, Petar Pantic, Ryan Kuchel, Luigi Vitale and Sakelaros "Charlie" Kambouris - were also considered "persons of interest" during the inquest, and some faced minor charges.
But Wilhelm was charged with manslaughter and supplying Ms Brimble with the illegal drug GHB, also known as fantasy or liquid ecstasy, which was found in her system.
Last year, a four-and-a-half week trial resulted in a hung jury.
On Monday, as his second trial was due to begin, Wilhelm pleaded guilty to an alternative charge to manslaughter, saying that he had caused Ms Brimble to take the drug.
But Justice Howie refused to accept the plea.
"I cannot allow him to plead guilty to a matter he did not commit, and he did not commit this," Justice Howie said.
Crown prosecutor Terry Thorpe said the manslaughter charge against Wilhelm would therefore be dropped.
Wilhelm then pleaded guilty to supplying Ms Brimble with the drug GHB.
Justice Howie said he thought it was the right decision, adding that "stripped of all the prejudice, stripped of all the hysteria", he would be surprised if a second jury found Wilhelm guilty of manslaughter.
The judge went further, to say that little regard had been paid to Wilhelm's rights by the publication of a series of photographs depicting his "unsavoury" behaviour on the night Ms Brimble died.
In one infamous shot, Wilhelm was seen parading around the deck of the Pacific Sky cruise ship naked, but for a life jacket, at a time when Ms Brimble's naked body was lying, tangled in sheets, on the floor of his cabin.
Wilhelm had been subjected to "rumours, misinformation, supposition and conjecture, which is not based on the evidence I have seen", the judge said.
The judge said that although the public might be looking for someone to blame, Wilhelm's culpability must be limited to the supply offence.
"I'm saying this because it needs to be said, the record has to be set straight," Justice Howie said to a courtroom packed with media.
"The community (must) be aware that ... although the death of Ms Brimble was, to say the least, unfortunate, it was only technically Mr Wilhelm's fault.
"She was an adult, and, on the evidence, voluntarily took the drug.
"She did not believe that it would injure her and neither did Mr Wilhelm believe it would injure her...
"Although he might have been morally or technically responsible for the death of Ms Brimble, I doubt he was legally responsible."
Neither Wilhelm, nor his parents, who were in court, betrayed any emotion as the charge was withdrawn and the judge made his comments.
Likewise they all refused to talk to the media waiting for him outside.
Wilhelm will be sentenced for the supply charge on April 29.
- AAP