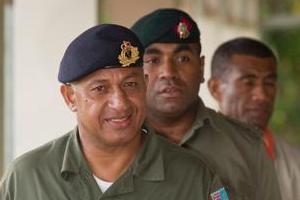 The Government would be concerned is there is a crackdown on the Fijian media and is seeking more information, Acting Prime Minister Bill English said today.
The regime of self-appointed Prime Minister Frank Bainimarama yesterday issued a new media decree which Newspaper Publishers' Association chief executive and New Zealand Media Freedom Committee secretary Tim Pankhurst described as "highly oppressive".
It was clearly aimed at totally muzzling an already repressed media, he said.
Mr English said he was worried about the reports
"We would be concerned about a media crackdown in Fiji... it does look a bit consistent with how the regime does business, but we would like to get a clearer idea of what they have actually decided before we make too much more comment," Mr English said.
Mr Pankhurst said the regime was cementing in place emergency regulations imposed a year ago that have seen censors installed in newsrooms.
"It not only targets editors and their journalists. Any members of the public brave enough to express dissenting views are also in line for crippling fines, ill treatment and jail."
Media outlets could be fined up to $F500,000 (about $344,000) and individual journalists up to $F100,000 ($69,000) and be jailed for up to five years if they failed to comply with the decree's dictates.
Offences included such "crimes" as criticising the government and even failing to run bylines, Mr Pankhurst said. Foreign media ownership was also restricted.
Officers were empowered to enter newsrooms and seize any notes, documents, or equipment.
"Soldiers overseeing the media is a characteristic of a dictatorship," Mr Pankhurst said.
"There doesn't seem to be any reasoning with an increasingly unsavoury regime that deserves to be isolated and condemned.
"Far from restoring democracy, it is heading in the opposite direction."
Mr Pankhurst said the Media Freedom Committee would continue to offer whatever support it could to colleagues working in increasingly difficult circumstances.
The Fiji Times reported that the head of the Fijian justice and communication ministries Aiyaz Sayed-Khaiyum said censorship of the media would end once the Media Industry Development Decree 2010 was in place, though a former publisher of the Fiji Sun newspaper said the media decree was worse than expected.
Russell Hunter, the first of three Australian publishers to be deported in 2008, said Fiji's media had already suffered in the past year from the censorship rules imposed under the public emergency regulations.
He said the industry would not survive if the planned Media Industry Development Authority went ahead.
"There is no possibility whereby journalists can dispute or challenge decisions of this body. It is very clear that is cannot be challenged in court, criminal or civil."
- NZPA