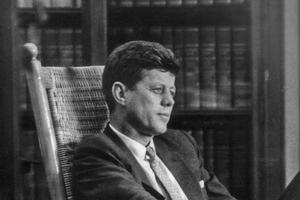 If there was ever any doubt that John F Kennedy, the slain American President, was a hopeless romantic, if not an out-and-out rake with a foggy grasp of the commitments of marriage, a newly revealed collection of love letters written in his own hand to a straw-haired Swedish siren will surely put it to rest.
True, the young senator from Massachusetts first met the woman in question, Gunilla von Post, before his marriage to Jacqueline Lee Bouvier - but only one month before.
It was the summer of 1953 and the pair - he 36 and she just 21 - were both on holiday on the French Riviera. They danced all night and parted with a moonlit kiss.
Most about-to-be-married men might consider such a night as a last fling of bachelorhood with no prospects for continuation, particularly if they are in public life with aspirations to lead their country. But Kennedy did not think like most men.
So he was to begin corresponding with von Post, mostly in the hope of organising a clandestine reunion.
The details of the affair were made public by von Post herself in a book and an interview with ABC News in the United States in 1997. But only now are the 11 letters written by Kennedy, many filled with swooning language, coming to light. More than that, they are for sale on a Chicago online auction site. The sale closes in two weeks.
"Do you remember our dinner and evening together this summer at Antibes and Cagnes," Kennedy asked in the first letter, sent in March 1954, five months after his marriage to Jackie and six months after meeting von Post. "How are you? - and what are you now doing in Paris, you said you were going to work for an airline. Do you - and do you fly to the United States. I expect to return to France in September. Will you be there?"
Attempts by JFK to arrange a secret rendezvous in the summer of 1954 came to nothing. But they finally got together in a Swedish castle away from the prying eyes of the American voter (and Jackie) in August 1955. "I borrowed him for a week, a beautiful week that no one can take away from me," von Post was to tell ABC decades later.
JFK attempts flattery -"under that beautiful, controlled face that still haunts me beats a warm heart" - to keep von Post on the hook, as well as humour, calling her once his "Swedish Gorilla" (presumably referring not to her physique but her first name).
In the last letter dated August 1955, Kennedy admits that his wife and sister were arriving and adds ruefully. "It will all be complicated, the way I feel now - my Swedish flicka [little girl]".
- INDEPENDENT