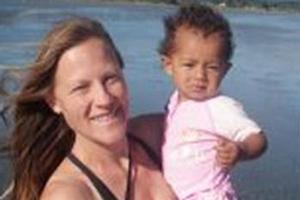 A New Zealand-born mother and her injured 2-year-old daughter were safe in the Dominican Republic last night after escaping earthquake-shattered Haiti.
But her husband and two other daughters were still missing under the rubble of the Port-au-Prince hotel they were in when the quake struck.
Emmanuel Rejouis was with his daughters Kofie-Jade, 5, Zenzie, 3, and Alyahna, 2, at the Karibe Hotel when the earthquake destroyed the building.
The girls' mother, Nelson-born Emily Sanson-Rejouis, 37, was working at the time in the United Nations office - which was also destroyed - and rushed to look for her family after the ground stopped shaking.
Alyahna was pulled from the wreckage yesterday morning.
It is understood she had several injuries including a broken leg.
Last night, Mrs Sanson-Rejouis called her sister Rachel Sanson to say she and Alyahna had been able to reach a hospital in the neighbouring Dominican Republic.
Mrs Sanson-Rejouis' step-brother, Jamie Larnach of Auckland, said her missing daughters were "lovely, gorgeous little girls".
He said reports that her French-Haitian husband's dead body had been found draped over Alyahna were a "mis-communication".
Mrs Sanson-Rejouis' father Roger, mother Jennie Wilson Sanson and Rachel were leaving New Zealand last night for Miami.
"Emmanuel has family members in Florida who are making an effort to get to the Dominican Republic to support Emily and Alyahna," Mr Larnach said.
New Zealand Foreign Minister Murray McCully said the Government was trying to give the family consular assistance.
"We are looking at sending someone to the United States to be ready to go to Haiti when the conditions allow. However, Haiti's airport is closed and there is no indication when it will reopen.
"We are continuing to work with our consular partners [the US, Canada, Australia, France and Britain] and international organisations in Haiti to see what immediate assistance they can provide."
Two other New Zealanders thought to be in Haiti have been found elsewhere.
Mr Larnach said the family were making an international appeal for help in finding Mr Rejouis and the two girls, and had been in touch with the New York office of former Prime Minister Helen Clark, who is in charge of the UN Development Programme, and other aid agencies.
Mrs Sanson-Rejouis and her husband met overseas while both were working for the United Nations.
They had been living in Port-au-Prince for six months, and previously lived in Africa with their older two girls.