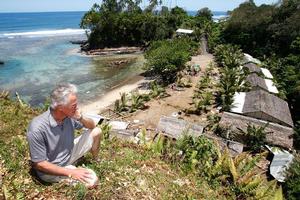 The Australian owners of a Samoan resort destroyed by the recent tsunami have lashed out at the Australian Government for "abandoning" them at a time of desperate need.
Seabreeze Resort, on Samoa's devastated southern coast, was hit with the full force of the September 29 waves. Bay of Plenty couple Andy and Angie Belcher helped raise the alarm just before the tsunami hammered the resort.
Owners Chris and Wendy Booth were left with crumpled luxury villas and a pile of rubble. The couple, originally from the Sunshine Coast, have vowed to rebuild their business but say the lack of support from Australia has let them down.
"Mr Rudd, where have you been for us?" Ms Booth said. "We've had a bit of help from the Samoan Government, even the New Zealanders have given us a hand.
"But from Australia, there's been absolutely nothing, despite the fact we're the only Aussie-owned and run operation that has been terribly damaged."
She said the lack of financial aid and ground help had been made worse given Seabreeze hosted several AusAID officials during the initial clean-up.
"God knows we've had enough of them here for lunch, all the while acknowledging the total mess around them, and then nothing," Ms Booth said. "We just thought Aussies would help Aussies but obviously we thought wrong."
Frustrations are mounting for the pair, who say "while the tsunami was awful, it lasted just five minutes. Everything that has come since has been much worse".
By this the Booths mean slow insurance processing and a fear that claims won will not bring in enough funds to rebuild the destroyed sea wall, villas and restaurant.
Meanwhile, the mess remains, their overdraft gets bigger and most of their 27 staff remain unemployed.
"That's the hardest thing," said a tearful Ms Booth. "Since the tsunami many of our staff have gone from caring for 15 family members to 30. Their plantations are bare but, horribly, they have no incomes. That just breaks my heart.
"Without us they have nothing and right now we have nothing. That's a worrying brew."
Her concerns are echoed by the owners of Sinalei Reef Resort and Coconuts Beach Resort, the two other major hotels damaged in the tsunami.
Those owners have also pledged to reopen but say slow insurance claims and aid distribution has left them feeling overwhelmed and disheartened.
"To be honest we feel we've been left high and dry," said Sose Annandale, who runs Sinalei.
"There seems to be this idea that aid should be only for the people and not businesses but officials have forgotten that we are big employers. Get us on track and the people have money to live."
At Coconuts owner Lina Bell says the past two months have been the hardest in her life.
"We're all in the same boat. We're in the dark and struggling but we're passionate and we'll be back, bigger and better. That's what we hope."
- AAP