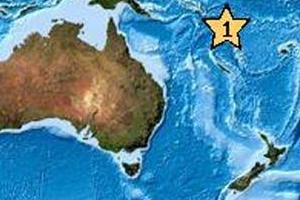 Civil Defence says a tsunami threat remains in place for New Zealand despite the Pacific Tsunami Warning Centre cancelling its warning for New Zealand.
The warning follows a 7.8 magnitude earthquake off Santo island, near Vanuatu, at 11.03am NZT.
A second earthquake measuring 7.3 struck 15 minutes later and a third at 12.13pm measuring 6.2.
The quake struck 294km northwest of the Vanuatu island of Santo and 596km northwest of the capital of Port Vila at a depth of 35km.
Civil Defence says the tsunami threat is not expected to be destructive for New Zealand but people on the West Coast from Northcape to Hokitika and on the East Coast from Northcape to Auckland should stay clear of beaches and out of the water until this evening.
It says any larger waves will take several hours to reach our shores after the quake.
The Pacific Tsunami Warning Centre earlier confirmed a small tsunami was generated by a large earthquake off Vanuatu but has now cancelled warnings, saying the danger is likely to have passed.
There were no immediate reports of damage or casualties in Vanuatu after the quakes.
The Pacific Tsunami Warning Centre said the tsunami "may have been destructive along coasts near the earthquake epicentre and could also be a threat to more distant coasts".
It measured just 4cm.
At about 1.30pm, the centre said in the absence of damaging waves for more than two hours after the earthquake it could be assumed the threat had passed. It added: "Danger to boats and coastal structures can continue for several hours due to rapid currents."
It earlier issued a tsunami warning for some Pacific nations including New Zealand, Vanuatu, Solomon Islands, Fiji Samoa and Australia.
A local resort owner on Espiritu Santo Island said the quake shook the island but, despite a tsunami warning, there were no real safety fears.
"We're on the other side of the island, the side where the tsunami would hit is very mountainous," Charmaine Viljoen, owner of Coral Quays Resort, said.
She said mountains on the island's western side go almost straight into the sea and there were very few communities living on the coastline.
Port Vila-based High Commissioner for New Zealand Jeff Langley said there did not be appear to be any damage in Port Vila, 500km from the epicentre of the first earthquake.
Staff are trying to make contact with about 250 New Zealanders registered with the commission.
Mr Langley described the quake as "a noticeable, long-rolling shake" that lasted about 30 seconds.
There had been a number of earthquakes since the shake that triggered last week's Samoa tsunami, and "quite a bit" of volcanic activity on the island of Gaua, in the Baker Islands group to the north.
Today's quake lasted longer than other recent quakes, but did not feel any stronger.
The Pacific Tsunami Warning Centre said an earthquake of this size has the potential to generate a destructive wave that can strike coastlines near the epicentre within minutes and more distant coastlines within hours.
The Ministry of Civil Defence sent an advisory to all responding agencies in New Zealand, including fire, police, coastguard, local authorities and others to put them on standby.
Should a tsunami reach New Zealand, it would hit at the following times:
* North Cape - 2.34pm
* East Cape - 3.16pm
* Auckland (West) - 3.33pm
* Gisborne 3.49pm
* New Plymouth 4.10pm
* Auckland (East) 4.14pm
* Napier 4.29pm
* Milford Sound 4.35pm
* Wellington 4.39pm
* Westport 4.50pm.
The latest warning comes just two weeks after a quake of magnitude 8.3 rocked the South Pacific near Samoa, sparking tsunami waves that killed at least 180 people and devastated coastal villages in Samoa, American Samoa and in northern Tonga.
Tsunami warning was in effect for:
Vanuatu, Solomon Islands, New Zealand, Samoa, American Samoa, Tonga, Australia, Nauru, Papua New Guinea, Tuvalu, New Caledonia, Fiji, Kiribati, Kosrae, Wallis-Futuna, Howland-Baker
Civil Defence's tsunami advice:
Before a Tsunami
Getting ready before a tsunami strikes will help reduce damage to your home and business and help you survive.
• If you live in a coastal area, check with your council about the level of risk a tsunami would pose to you and your family
• Check with your local Civil Defence Emergency Management Group to find out what warning procedures you should expect
• Develop a Household Emergency Plan and ensure you have a Getaway Kit should you need to leave in a hurry
• If you are buying land, investing or building in a coastal area, talk to your council about the risks of a tsunami, coastal storm surge and erosion
• Know where the nearest high ground is and how you will reach it. Plan to get as high up and as far inland as you can. Plan your escape route now with your household
During a tsunami
• If you haven't done so already, move immediately to the nearest higher ground, and as far inland as you can.
After a tsunami
• Listen to the radio for civil defence advice
• Do not go down to the sea until you have been told it is safe to do so
- AP, NEWSTALK ZB, NZ HERALD STAFF, NZPA