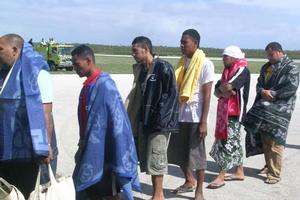 Anger is growing in Tonga as local people learn their King left for a holiday hours after being told about the ferry tragedy in which at least 60 people are feared dead.
Politicians have also revealed they urged the Government not to use the boat because it was so dangerous.
Authorities were last night still trying to establish the identities of some of the missing passengers as several had managed to board without a ticket.
By last night rescue boats had picked up 53 survivors and the bodies of two people, including Briton Daniel Macmillan, who had been living in New Zealand.
Hopes were fading for the remaining 64 passengers, most of whom were women and children asleep on lower decks when the ferry rolled quickly on Wednesday night about 85km northeast of the capital, Nuku'alofa.
Although the cause is not yet known, passenger reports suggested timber cargo had shaken loose in rough seas and shifted the balance.
Veteran democracy MP Akilisi Pohiva told the Weekend Herald they had spent the last couple of weeks trying to stop the Princess Ashika from operating.
It was the only boat servicing the islands and had been bought two months ago after the Olovaha, in use since the 1980s, developed engine troubles.
Interisland ferries are not commonly used by tourists, most of whom fly between Tonga's three island groups. The vessel was to be a stopgap until a new Japanese-built ferry was delivered in 2011.
Mr Pohiva had spoken to Marine Department officials, who told him the boat was not licensed and should not have been operating.
"It failed to meet safety requirements. It did not follow the safety requirements before it left for the island ... according to the information there were a few lifeboats on board but I don't know whether they managed to untie the lifeboats before the vessel was completely drowned."
Government-owned Polynesian Shipping would not comment, saying the issue was the subject of a police investigation.
King George Tupou V was reportedly informed soon after the vessel sank but hours later, to a 21-gun salute, he left the kingdom for an extended Scottish holiday.
Tongan Prime Minister Fred Sevele, who is at the Pacific Islands Forum in Cairns, Australia, yesterday defended the King's decision to continue with his trip. He said the Princess Regent remained in Tonga to stand in for the King.
He had stayed in Cairns because he had an important agreement to sign between Tonga and Australia and also needed to be in Cairns to deal directly with Australian and New Zealand leaders, he said.
Mr Sevele expected he could be greeted with angry scenes when he returned to Tonga tomorrow night.
He conceded there had previously been concerns expressed about the safety of the ship. He had been assured it did have seaworthiness certificates needed for insurance purposes.
A 12-member Navy dive team and three-strong search team from New Zealand were due to arrive from Whenuapai on an Air Force Hercules late last night.
Rescue Co-ordination Centre New Zealand search and rescue mission co-ordinator John Dickson said a decision on whether the search would continue would be made this morning.
Prime Minister John Key expressed his condolences to the Tongan community yesterday.
- ADDITIONAL REPORTING: Claire Trevett