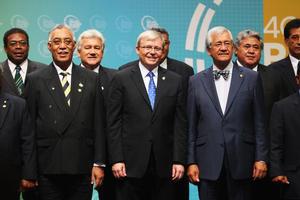 CAIRNS - When the Pacific Forum Secretary-General Neroni Slade thanked Australian Prime Minister Kevin Rudd for hosting the forum meeting "in a setting so wonderfully Pacific in ambience", some eyebrows raised.
The opening of last year's forum was in an open field in Niue with the leaders lined up on an impromptu stage, a pig on a table and taro plants displayed on a fence. A Niue dancing group leaped about vigorously and local people lined one side of the field.
While Cairns (or Cans, to be true to the Australian vernacular) has the appropriate swaying palm trees and even bats, the conference is in a grand modern auditorium, complete with professional lighting and sound system. For the opening, the forum country leaders - all in suits - were led on to stage to the classical sounds of Pachelbel.
There was an Australian ambience about it, as is proper. There was a didgeridoo, a choir and singers lilting out odes to Australia.
One delight appeared in the form of Seaman Dan, who launched his singing career at the age of 70 and had since churned out five CDs. He was helped onto stage - a small, wiry man with a cane - where he belted out his own brand of Torres Strait Island blues in an astonishingly strong voice.
There was also a dearth of "Pacific ambience" in the management of the forum. While Niue was a casual affair, the Cairns forum is run like a military mission.
It is perhaps the right time for this. The forum has been criticised - including most recently by New Zealand's Foreign Minister Murray McCully - as heavy on talk and light on action.
This year there seems to be a new determination to change this.
This was largely forced upon the leaders by the economic downturn which appears to have galvanised them into action, albeit with some reservations.
At yesterday's opening it was the Secretary-General Neroni Slade who spoke most forcefully and eloquently about the new urgency required of the forum.
"The Pacific environment that leaders knew 40 meetings ago is no longer the same and global nature systems edge towards dangerous tipping points, seemingly by the day.
"We are now in the grips of the most debilitating global financial and economic crisis. While its effects are still evolving, what is already clear is that not one single Pacific economy will be spared. Typically, it is the small and the least able to cope that will register the most serious consequences."
Today these nations will meet for the annual "retreat" to discuss a paper prepared by Australia and New Zealand, optimistically titled "Surviving the global recession".
It runs through the perils facing Pacific countries - drops in exports, tourism and tax collection, falls in the value of national trust funds, and difficulties in accessing finance. It provides some "solutions" - including economic reforms, focusing on core services, building infrastructure and transport links and opening up trade.
Both New Zealand and Australia have been working to make sure other Pacific countries know they may need to take some risks to ensure that happens.