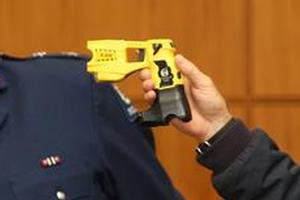 The arrest of an Outback petrol sniffer who erupted into flames after being shot with a Taser has renewed controversy over the use of the electric stun guns by Australian police.
Ronald Mitchell, 36, suffered third degree burns to 10 per cent of his body after he allegedly ran at police with a can of petrol and a cigarette lighter in the tiny Aboriginal community of Warburton, below the Gibson Desert in Western Australia.
Mitchell, who was reportedly hit on the bridge of his nose by the Taser's probes, was flown more than 1500km to Royal Perth Hospital after the flames were smothered by a policeman. The officer suffered burns to his hands and required five stitches to his head after being struck by a rock allegedly hurled at him by an 18-year-old woman during the incident.
West Australian police have launched an investigation into the use of the Taser and Mitchell's injuries, and have indicated that they have not yet accepted that the stun gun caused the flames. WA Police Commissioner Karl O'Callaghan said yesterday that Mitchell was a violent offender and a known petrol sniffer, and had run at two officers when they called at his house.
He said Mitchell was carrying a lighter and container believed to contain fuel, and had refused to stop.
"The police officers were concerned that they were going to be burnt so they deployed a Taser.
"The only other choice they would have had was to use a police issue firearm and the circumstances would almost certainly have been far more grave."
Mitchell burst into flame, and was thrown to the ground by one of the officers, who smothered the flames with his hands. O'Callaghan said he could not discount the possibility that the Taser had set Mitchell alight, but that there was a very strong possibility the fire was caused by his cigarette lighter.
Mitchell's sister, Morinda West, told the Australian that her brother had been sniffing petrol when the police arrived and, having being released from prison only two months ago, had been afraid he was about to be arrested.
Mitchell had eventually decided to leave the house, and had taken a 2 litre orange juice container full of petrol with him: "He must have put petrol on his face, then the policeman shot him with the Taser. That's when the flames happened."
Mitchell was charged with possession of a sniffing substance and assault to prevent arrest, a woman was charged with two counts of assault, and two teenagers were charged with possession of a dangerous substance for sniffing purposes.
But after two deaths involving Tasers, and a number of other controversial instances of their use, Mitchell's case has renewed demands for their withdrawal.
WA Aboriginal Legal Service chief executive Dennis Eggington told ABC radio that there was mounting proof that Tasers were dangerous, and should not be used on people suffering from a range of health problems.
"The idea of a man getting burnt and Tasers being used while there are volatile substances around is of great concern."
Tasers are issued to general-duty police in WA and New South Wales, but are restricted to special squads in Victoria, South Australia, Tasmania and the Australian Capital Territory. Their use has been criticised by the NSW Ombudsman and Victoria's Office of Police Integrity, and Victorian Police Commissioner Simon Overland has said he will not release them for general-duty officers.
Civil libertarians have demanded a ban on Tasers after the death of a man in the Northern Territory, and of Antonio Galeano, 39, who died after being hit by 28 shocks from a Taser near Townsville.