Video conferencing and shared wireless 'hot desks' allow staff to work anywhere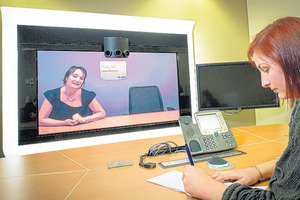 With increasing pressure to cut business costs, manage work and family responsibilities and provide a desirable, smart environment for employees more companies are turning to the modern work space concept where closed offices are out and hot desks are in.
Gen-i, Telecom's ICT service division, had the prime opportunity to do just that 18 months ago when Auckland's Telecom Place and later Wellington's Telecom Central were built.
"As well as building really impressive spaces to work in, we've added lots of really cool technology," says Gen-i Australasia chief executive Chris Quin.
That technology includes 40 state-of-the-art TelePresence rooms throughout New Zealand and Australia, 100 video conferencing rooms and 200 wireless access points.
Employees don't have allocated offices or desks. Instead the completely wireless set-up allows them to work from shared "hot desks" anywhere in the building, which alongside a smart-printing solution, has saved the company 70 per cent in stationery costs and 30 per cent in land costs.
"I genuinely see people innovate faster and team-work more," says Quin. Instead of the traditional chief executive's office tucked away in the corner even Quin's desk is on the open floor.
"On the open floors I find out more about what's going on, I overhear conversations and can more easily solve or help with problems," he says.
Technology advances mean staff can also work from home when needed, a privilege the 7000-strong team appreciates.
After earthquakes left Telecom's Christchurch base uninhabitable 30 per cent of the call centre team were forced to work from home when the company moved to eight different buildings.
However, Quin says having the call centre staff based at home, where they have full access to all the systems they would in the office, has been so successful they will stay there when the company moves to a new base.
Gen-i Hawke's Bay client services manager Leisa Epplett knows how valuable working from home can be.
The mother-of-two has worked with Telecom for 10 years and says it is incredible to see how technology advances have changed the way she works.
"Work is no longer a place I go but something I do regardless of location."
Epplett lives 20 minutes from the Napier-based office, a long commute in Hawke's Bay she insists, and says scheduling her calendar so she doesn't have to go to the office at least two days a week saves a lot of time and money travelling.
"It's a change of mindset," she explains. "Because I live further away and don't want to travel as much, I have really embraced it. The time I'm not travelling means I have more time to spend with family."
"Just five years ago I had to go back to the office for everything, even just to write up notes after meetings.
"Now I take my iPad with all my notes and information on to meetings, it's pretty much a paperless workplace."
While the switch to modern workspaces was a big financial investment, Quin says it was worth it and Epplett agrees.
She says her modern workspace has made it less stressful to juggle work and family responsibilities.
"I find it fantastic. I have a 3- and a 5-year-old so I can finish work at 3pm in time to pick them up from school, have time with them and then do a bit more work after I put them to bed."
From the comfort of her lounge Epplett can even print something at the office to be ready and waiting for her when she goes in.
The radical shift to state-of-the-art video conferencing took a while to get used to but everyone has embraced it now, Epplett told the Herald over a Cisco TelePresence video conference.
The TelePresence system uses a series of cameras and microphones which activate and follow the voice of the speaker so they are shown on the screen.
It was funded by relocating travel budgets and has so far saved 175 days that would have been used by people travelling.
"I'm completely confident the investment has paid off - in fact it is more than paying for itself, it has generated cost saving against investments and increased productivity for people," says Quin.
Despite the increased use of video conferencing in place of face-to-face meetings, Epplett says she doesn't miss out on human interaction.
"If anything I have more now. Instead of sending emails I can just video conference because it is so clear and easy.
"I would just like to see more and more people embracing the technology and making the most of it."
This is a goal the Government supports, with Communications and Information Technology Minister Amy Adams announcing the inaugural Telework Week earlier this month.
Adams says the week-long initiative is designed to promote the benefits of businesses having staff work from home.
The initiative, led by Cisco which provides Telecom's video conferencing facilities, will run from November 12-16.