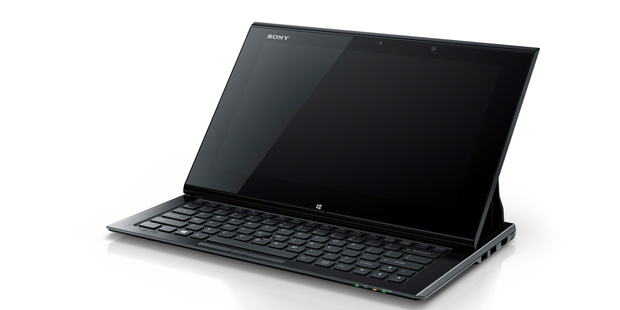 Microsoft's new touch-enabled Windows 8 operating system means PC makers can depart from staid old boxy desktops or clamshell laptops and come up with new innovative designs.
I was able to try out two rather different machines recently, the Sony Vaio Duo 11 and the HP Envy 23 AIO Touchsmart, which are very unlike anything else I've encountered before. Here are my impressions of the touchy-feely pair.
Sony goes both ways
Is the Duo 11 a laplet? A tabtop? This curious hybrid device from Sony is like a laptop and a tablet rolled into one device; hence the Duo moniker.
The Duo concept mostly works too: folded down, the device acts like a somewhat fat Windows 8 tablet that tips the scales at 1.3kg.
Pop up the screen, and you have a combined keyboard and stand so you can use it as a laptop.
In fairness, the keyboard is shallow with small keys and takes a while to get used to. Even then, it readily beats tapping on the screen for typing.
Although the Duo 11 is very well built with quality materials and nicely designed, the screen doesn't lock in position when popped up and the hinges may be somewhat vulnerable. Also, the keyboard tray doesn't do double-duty as a cover, so the screen is facing outwards when folded down.
Luckily, Sony used hard to scratch Corning Gorilla Glass for the very good screen, which measures a small 11 inches diagonally but has a high 1,920 by 1,080 pixel resolution.
Sony also included a Wacom 256-level digitiser with a separate electronic pen for drawing, painting and writing on the screen. There's nowhere to store the pen on the Duo 11 though.
With a recent Intel processor inside, 8GB of memory and a 128GB solid state drive, the Duo 11 never ran out of puff. Like many other portable devices, if the Duo 11 has to work hard it tends to heat up forcing the fans to kick in which you'll notice, although they're not the noisiest ones I've come across.
Battery life was an acceptable 4 to 4 1/2 hours with power saving features enabled and screen brightness adjusted down a little. You can add another battery to the Duo 11, for $279 that provides eight to nine hours of total run time according to Sony.
The most expensive Duo 11 with a 1.9GHz Core i7 processor and 8GB of RAM costs $2,700 and the cheaper variant with a Core i5 processor and 4GB memory costs $2,000, so it's not a cheap device in either configuration.
That money buys you a fully-fledged laptop though, with connectors that tablets don't have such as Ethernet for wired networks and even an old fashioned VGA display port that looks incongruously large on the Duo 11.
If you need those things, Windows 8, plenty of power and don't want to run a separate tablet, the Sony Vaio Duo 11 is worth looking at. It's not as lightweight as a tablet though and the price is on the high side.
Rating: 4/5
Contact: sony.co.nz
HP tries the big touch
Since I hate people touching my desktop screen and putting their finger prints all over it, I knew the Envy 23 would be a challenge to review.
This is an all-in-one desktop PC, so everything's built into the monitor so to speak, with no separate box on the side required. I mean everything: the Envy 23 has an optical drive, wired Ethernet network connector, lots of USB ports, Beats Audio system with good speakers and even a digital TV tuner for Freeview that worked badly under Windows 8.
Fingering a large upright screen is a bit odd at first, but easy enough after a while. Over longer periods of time, holding out your arm is a bit tiring but there's novelty value in being able to pinch-zoom on your desktop computer just like on a tablet.
However, I couldn't warm to the touch-enabled desktop concept. First, to use touch you have to sit closer to the screen than usual, unless you have monstrously long arms. When you do that, you discover that close up, things look jaggy on a large 23-inch screen with 1920 by 1080 pixel resolution.
As you can tilt the screen back to almost 45 degree angle, I imagine the Envy 23 would work nicely as with a stand-up desk that you could adjust the height on, or similar. Not many people have those though and as it is the touch screen isn't that practical unfortunately.
Smudgy finger prints look bad enough on a smaller smartphone or tablet screen, but all over the 23-inch Envy display, they're pretty terrible. Also, some Windows 8 gestures such as closing a program by swiping from the top to the bottom of the screen are really awkward to do on a big screen.
I was sent the top of the range Envy 23 AIO with an Intel Core i7 processor, 16GB RAM and a 2TB hard drive. That package can be had for $2,300 to $2,400 in retail stores, which is a reasonable price for a powerful computer that's well put together and is nicely designed.
Save some money though, and order the Envy 23 AIO without the touch screen as I don't think you'll miss it.
Rating: 3/5
Contact: hp.com