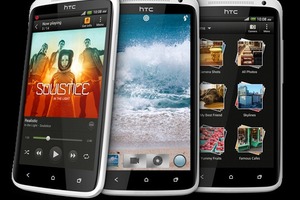 I know it's 2012, but I'm still reeling at holding a phone that contains a 1.5GHz processor with four cores and 1GB RAM. That's the smarts of the new HTC One X which also has a 4.7-inch high-resolution touch screen with 720 by 1,280 pixels where high-definition TV starts. Not so long ago, those specifications were found in expensive, tricked-out PCs. It's pretty amazing that they're now found in pocketable devices costing a grand.
Well, almost pocketable: a female acquaintance saw me holding the HTC One X and said that's huge she was referring to the phone, not my ego and it is a big device at 134.4mm length and 70mm width. The HTC One X makes a sizeable impression in your pocket, and some people may find it is just that bit too large
On the other hand, the phone's girth is moderate at 8.9mm and the weight isn't too bad at 130 grams. For me, the large HTC One X is easier to handle than smaller devices.
Why do they make them so big? my friend asked so I played back some video clips on the HTC One X.
Now, the brilliant 4.7-inch hi-res screen with scratch-resistant Corning Gorilla glass made total sense to my friend. A big screen like this turns the One X into a phablet that works well for browsing the web, video, reading maps and e-books, basically anything visual.
This is probably the best screen on any phone that I've seen. As the pixels or colour-dots that make up the display are so small, icons and text look like they're beautifully printed and not computer generated. For techie types, the pixel density is 312ppi, which is almost as good as the iPhone 4S that manages 330ppi on its smaller, 3.5-inch display.
HTC followed up the wonderful screen with a very nice, polycarbonate body (the review sample was white and there's also a black model) and a design that uses only two physical buttons, power and a volume up/down rocker.
The lack of metal in the case should be beneficial for signal reception too.
Overall, the phone has a solid quality feel to it, a notch better than past devices from HTC. I'd rate it as good as the Nokia N9/N800 in fact.
Warp speed cores
This is a powerful device: compared to the earlier HTC Sensation XL which also runs at 1.5GHz but only has a single core, the One X is about three times as quick in the Antutu benchmark.
In practical terms, this means the One X can handle just about everything you throw at it, including high-definition video, multitask and not bog down like so many other Android phones.
Thanks in part to a meaty 1,800mAh battery the One X doesn't have to be recharged every few hours despite the multi-core processor and big screen. I enabled all the social media stuff to update in the background, browsed websites, sent and received email, talked over 3G and connected via Wi-Fi, and found the phone would easily go through an entire day before recharging. The flipside of the big battery is that it takes a while to fill up again.
Sense on Ice Cream Sandwich
The One X comes with the latest iteration of Google's Android operating system, 4.0.3 which is code-named Ice Cream Sandwich or ICS, continuing a long-running dessert theme of version monikers.
ICS isn't a radical departure from earlier Android versions like Gingerbread but it does add refinement in the looks and performance departments, and some new features such as being able to search emails, near-field communication (NFC) for close-quarter data sharing, better camera software and social networking that integrates with the contacts book, like Windows Phone 7 does.
One ICS feature that was fun to use for five minutes was the face recognition screen lock. The One X asks you to look at the 1.3Mpixel front-facing camera and learns what you look like, so you only need to stare at the phone to unlock it.
I turned it off soon though, as you have to first press a button to wake the phone, then move a ring on the screen to get to the face recognition lock and remember to hold the phone straight, and take off your hat otherwise the One X doesn't want to know you. Face recognition lock doesn't work when it's dark either. Not-quite-there-yet-technology in other words. The front-facing camera is does make for good quality video calls though in 720p high definition.
HTC adds its own custom user interface called Sense and the One X comes with the new version 4.0. I'm a fan of Sense and 4.0 makes it better; the Car mode puts the One X display in landscape mode, with big easy to see icons for hands-free driving and smartphone use for instance and the big bundle of apps work well and are useful.
Where HTC misses the X
The slimness of the HTC One X is marred by the camera lens jutting out at the top. It's not as prominent as the camera in the Nokia N8 with a Xenon flash and large sensor, but the imaging unit in the One X is quite exposed and the lens could get scratched.
What's more the image quality from the 8Mpixel camera with a single LED flash, while not bad, could be better for both stills and high-definition video in 720p and 1080p.
The phone comes with Beats Audio sound enhancement which is great, especially if you like bass. You don't however get a Beats Audio headset with the One X, only generic-looking and sounding ear buds.
Few people will mind not being able to add to the 32GB of storage, 26GB of which is available to you, with Micro SD memory cards, as the One X case is sealed shut. Not being able to replace the battery very easily might be more of an issue however.
There is no excuse however for HTC to ship the phone without working software to sync content between your computer and the One X. Plug in the phone and it asks you to install the HTC Sync Manager. Except, that doesn't happen: HTC has laboriously put together a binary executable that fires up your web browser and takes you to a site saying Sync Manager will be available soon, but doesn't say when. Meanwhile, you're asked to download and install the 153MByte HTC Sync, which I did. Annoyingly, HTC Sync can't find the One X on either of my systems, so I had to manually copy over music and videos.
Feature rich and flexible
As you'd expect from a premium smartphone, the One X packs a big feature set. You have the full complement of sensors to detect movement, light, sound and there's a GPS for location.
Wireless-wise, you get 21Mbps downloads and 5.76Mbps uploads on 3G networks Vodafone and Telecom are supported, making it easy to switch between the two, as well as 2Degrees. The One X also comes with 2.4 and 5 GHz Wi-Fi (802.11n) that can be used in hotspot mode to share the 3G connection.
For now, the HTC One X is a compelling choice for those wanting a premium, powerful Android phone with a brilliant screen and full range of features. The HTC One X isn't without its flaws and foibles though, so consider those too before you fork out a grand for the phone.
Available from Telecom, 2Degrees and Vodafone from end of April.
Pros
Nicely designed with polycarbonate unibody
Lovely, high-resolution screen
Powerful processor, yet decent battery life
Very good user interface and feature set
Cons
Camera could be better
Size could be too big for some
No Beats Audio headset included
PC software offering poor; no Mac support