Greig Morgan's nifty creation will have guests toasting your talents.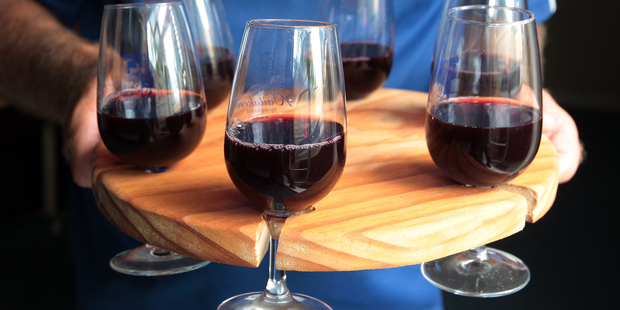 This is an easy-to-make project that will impress your guests when you're entertaining. And with winter drawing in, there'll be more staying in than going out, so get the jigsaw out and start creating.
Step 1 - On your piece of timber measure and mark (with the aid of a square) so the length is the same width, then mark from corner to corner to find the centre points and from there, mark across the centre points, giving you your quarter segments.
Step 2 - Trace a pencil line creating a circle shape with a bucket or similar. Then jigsaw around the waste side of the pencil line.
Step 3 - Sand around the cut shape using 80g sandpaper before evenly positioning the wine glasses to your segments, with the outside edge of the base and the outside edge of the timber, then trace a pencil line around the base of the glass, marking the centre points of the base.
Step 4 - Drill the centre point using a suitable size drill bit allowing for the top stem of the glass to seat neatly. Next, measure, mark and cut to the drilled hole with just enough room for the glass stem to fit through. Now drill a hole beside the original hole, creating an l shape to stop the glasses from falling out.
Step 5 - Using a rasp or file, smooth out the jigsaw marks and tidy up the drilled joins first before sanding.
Step 6 - With the wine-glass holder now complete, sand smooth with the coarser 80g sandpaper, rounding over the outer edges and finishing with 150g sandpaper. Now remove any dust with a damp cloth, making it ready for your preference of paint or stain.
Materials
• 300x25mm untreated timber
• Sandpaper
• 80g & 150grit sandpaper
• Linseed oil or stain or paint
Tools
• Tape measure or ruler
• Square
• Pencil
• Jigsaw
• Drill or screw gun
• Protective gear
• Drill bit to suit the stem of glass
• Rasp and file set
• Sander
• Bucket