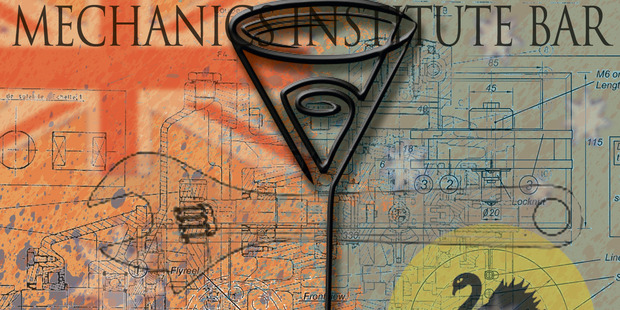 Hunting for "secret" bars has become a bit of a sport for travellers, with some of the best places tucked into the dark corners of big cities. Perth is no exception.
The Mechanics Institute
Rear of 222 William St
Even the alleyway for this roof-top bar isn't visible from the street, so it wins the "most hidden" award. This relative newcomer is a small, funky space with a cosy atmosphere, and is an excellent start to an evening out. You can also order decently priced food from Flipside, the burger joint below.
Owners Siobhan Blumann and Hamish Fleming believe small bars are a sign of Perth maturing.
"The beauty of a secret bar is people have to actively seek them out, so your patrons are people who really want to be there," Siobhan says.
PICA bar
51 James St
This relaxed bar gets its name from the art gallery next door and is also a new kid on the block. Local lads Conor and Brian Buckley were wise enough to see the location's potential. It is tucked into a corner of the up-and-coming Northbridge Plaza, where festivals, concerts and art exhibits are on high rotation.
"A few years ago you would have been nervous coming to this area, but now it's changed," says Conor. And he's right - this will be one to watch.
In a city that's rapidly becoming overpriced, the grub here is refreshingly generous. The starter plate for two is delicious and a bargain at $25.
The Greenhouse
100 St Georges Tce
Another rooftop establishment, this inner-city bar is larger than the rest, but initially I still walked past it without realising what it was. A good choice for a coffee as well as a drink, this place is pretty cutting-edge in its design and eco-awareness so make sure you have a chat to the staff about it when you're enjoying the green scene. Oh, and their food is amazing - possibly because it's locally sourced, if not grown in their garden.
Manager Daniel Grochowski believes small bars lend themselves to such creative set-ups. "It allows passionate operators to do what they want to do," he says.
Venn
16 Queen St
An art gallery and design shop by day and bar by night, this quirky space is located in an old flour mill. When renovations took place builders discovered original fabrics and features from the early 1900s hidden underneath a lot of scary 1960s decor. Pressed tin ceilings, polished floorboards, steel beams and a wooden staircase are now proudly exposed to punters. Co-founder Desi Litis says intimate, urban spaces like Venn draw all sorts of customers - from established CBD professionals to hip young artists. "It's fantastic that we can attract people from all sorts of backgrounds and everyone tends to bring a great attitude," she says.
An extensive food menu complements an even more extensive beer menu here - with brews from throughout Australia ready for the tasting.
Helvetica
101 St Georges Tce
This is one of those bars that can be found only by those who have been there before.
Disguised down an innocuous-looking alley, you will have to brave the dark to get to this fashionable joint.
This tapas bar is as trendy as the typeface it was named for and specialises in fine whisky - with the option of purchasing a bottle and leaving it behind the bar (with your name on it) for next time.
Cheeky Sparrow
6/317 Murray St
A stunning wine list drew me to this charming bar: Devil's Lair, Cape Mentelle and Vasse Felix are all good names in my book so I was won over quickly. The creative cocktail list - named after Disney heroines and villains - had me grinning like a child in a candy store, as did the space on the last page of the menu for patrons to doodle (BYO biro).
Wolf Lane
Just across from the Sparrow is this little bar, serving world-class (albeit, expensive) wines and boutique beers. With its decor inspired by fairy tales and evenings in the library, this certainly feels like you've stumbled into Alice's Wonderland. Perfect for bookworms and vino lovers.
1907
26 Queen St
In the basement of this building a cocktail bar is embracing old-world Hollywood glamour and is a good choice for a late-night drink.
Norma Jean is their signature beverage, created by famous Los Angeles bartender Vincenzo Marianella, and though it closely resembles a Caipirinha, it's oh so much better.
Their lemon meringue is worth a try too - if only to see the bartender expertly take a torch to the fresh meringue.
Ezra Pound
189 William St
Who wouldn't want their drinks served in a jar? This hideaway purposely keeps things low key, with minimal food, a "no-ties" policy and dishevelled furnishings.
A cash-only rule and an unreliable ATM might be a little too low-key for my liking but an excellent Cosmopolitan makes up for it.
The quaint unfinished brickwork adds new meaning to the term "hole in the wall".

Getting There
Fly there with Air New Zealand Book now
Find out more at Australia.com