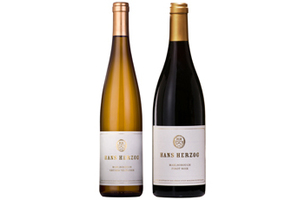 For almost two decades, Hans Herzog has been growing grapes, making wine and, in the process, carving out an enviable reputation for low-yielding, small-volume, high-quality handcrafted wines from Marlborough.
Along with the old world-style wines, he has one of the finest vineyard restaurants, with an eclectic international wine list and a relaxed ambience in a dining room overlooking rose gardens and vines.
Visit the cellar and processing areas and you won't find one pipette, bottle or barrel out of place. Immaculate, meticulous, precise - everything we have come to associate with the Swiss is not just in the Herzog operation, but also in the wines themselves. And there are a lot of varietals these days.
Initially Herzog concentrated mainly on Bordeaux-style reds, pinot noir and montepulciano; along with whites that included chardonnay, pinot gris and one of the country's best viogniers. Now he is showing considerable flair and
has expanded his styles to include arneis, marsanne, rousanne, zweigelt,
gewurztraminer and gruner veltliner.
The red division of his portfolio includes tempranillo, nebbiolo and a phenomenally popular cabernet franc.
Herzog brings a zeal, tenacity and enviable winemaking history to the task - his family has made wine since the 15th century.
He and wife Therese were drawn to New Zealand because of its beauty and Marlborough in particular, because of its reputation and similar growing conditions to areas of France's Bordeaux region.
Herzog picked up valuable lessons making wine in Europe, especially Switzerland, where often it's a short growing season because of the cold. As a result, he's a huge fan of cropping the vines lightly to ensure quality, highly concentrated grapes.
It's not all about volume, but rather about determining a premium product by controlling what happens in the vineyard. Attention to detail is paramount and this is one of the reasons the wines are highly sought-after.
Don't expect cheap - and don't look for the wines at your local supermarket. Excellence comes with a price.


Recommended
2012 Hans Herzog Gruner Veltliner – $44
A Rolls Royce version of a relatively new varietal enjoying considerable success in New Zealand. It has the Swiss attention to detail, producing a complex, vibrant and flavoursome beauty with typical quince, pear and yellow stone fruit characters.
2009 Hans Herzog Pinot Noir – $49
Not a shrinking violet, and one that should really develop even further with age. Savoury and spice with red fruit flavours and a quiet complexity that keeps you guessing. Delicious.