Hunker down for winter with a good port, suggests Don Kavanagh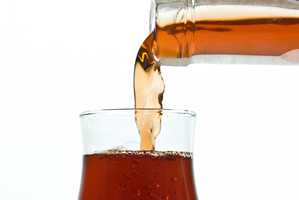 With winter coming in, I've been turning my mind towards wintry red wines of late, and there are few more comforting bottles to have on hand during the dead of the year than port.
We have something of a tradition of port here; actually, I should say we have a tradition of fortified wine here, as proper port comes from Portugal. Sure, there are some honourable mentions to be made of fortified wines from New Zealand and even from Australia, but for the genuine article, you need to find some Portuguese wines.
I sat down to a lovely range of ports this week, in the cordial company of Jorge Nunes of Symington's, the company that produces such labels as Dow's, Graham's and Warre's.
It was fascinating to try rubies, tawnies, aged ports and vintage drops side by side, and I can tell you that if I hadn't been driving I'd have been substantially less restrained with my intake.
Port is a fortified wine - that is, the wine is made, then the fermentation process stopped by adding neutral grape spirit.
This leaves some residual sugar in the wine, sweetening it and making it taste richer and thicker than your average table wine.
Depending on the ageing the wine gets, it can be either voluptuously sweet or elegantly dry and nutty.
Here in New Zealand there's a terrible habit of hauling out the port at the end of an evening and simply swilling it, but port is so much more versatile than that.
White port makes a lovely aperitif and goes well with fish and soups. A nice rich ruby can partner richer meat dishes, too.
It does come into its own at the end of a meal, however, and Jorge pointed out a handy tip for dessert matching - go by colour.
Dark, rich desserts call for a dark, rich port; orange and brown desserts such as caramel go well with brown (tawny) ports; and creamy dishes like creme brulee or panna cotta go well with lighter ports.
Of the range of wines I tried, it's hard to pick a favourite, although the Graham's 20 Year Old will take some beating. It's not cheap, but when it comes to having something special on the table it's hard to think of anything that would beat it.
Two samples of the recently declared 2011 vintage (it's not vintage port unless a vintage has been declared by the producer, usually three to four times a decade) showed just what glories lie in port. The Graham's 2011 was outstanding, even at such a young age. Rich fruit, marzipan, black raspberry and plum flavours roll around the mouth, and the texture is soft and elegant. The Dow's 2011 is a darker, broodier wine, but still complex with flavours ranging from plum to cinnamon by way of wild strawberry.
Port isn't cheap, but it's one of those wines that's always worth it, as long as you pick a good one. And with the lion's share of the premium port market, you can't go wrong with Dow's or Graham's.