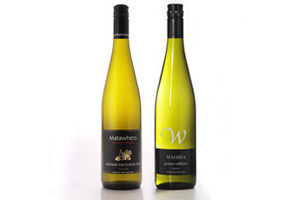 Gruner veltliner may not be a white wine you ask for or buy regularly, but it's here whether you're ready or not.
It has been available for a few years now, but the number of local producers experimenting with this Austrian varietal is growing.
Coopers Creek led the charge in 2008. Others to follow include Lime Rock, Saint Clair, Seifried, Babich, Forrest Estate, Hans Herzog, Bannock Brae, Waimea, Yealands Estate, and now Gisborne's Matawhero is getting in on the act.
This legendary vineyard, originally under the guidance of the mercurial Irwin family, is being ably steered by newish owners Kirsten and Richard Searle, who bring a new level of enthusiasm and skill across the board.
With a young family to nurture as well as expanding vineyards, the Searles are ensuring the Matawhero name not only survives but also continues to develop a fine reputation for maintaining past standards and taking the brand to a new level.
Their latest new release, gruner veltliner, represents another addition to their "Church House" series of wines.
These are unique smallish parcels of wine that allow the Searles to have a little fun in the winery, and also serve as a tribute to the historic Matawhero Church as well as the rugged, pioneering spirit of founders Bill and Dennis Irwin. The church graces the front of the vineyard's distinctive wine label and, along with gruner veltliner, the series also offers a 2012 barrel fermented sauvignon blanc.
Gruner veltliner is the most important grape variety in Austria, and although cultivation decreased by 22 per cent between 1999 and 2009, it maintains the dominant position in that country's total vineyard surface area.
The grape is named after the place it was discovered because, following genetic research, it could not be attributed to any known grape, although it has some relationship with the traminer.
It usually has lightish acidity with some spicy and even peppery characters and is a wine with an upfront vibrancy. Because of its gentle lightness, it is usually served with lighter flavoured meals, like sushi. It can also pair well with "awkward" foods such as asparagus and artichokes.
It's a wine that appears to be doing well in New Zealand conditions and deserves our attention.


Recommended
2012 Matawhero Church House Gruner Veltliner - $27
From young, low-yielding vines, this wine has a pale straw, light green colour and a restrained aroma, with hints of citrus blossom, mandarin and red apple. A subtle palate with above flavours and a whisper of sweetness.
2011 Waimea Gruner Veltliner - $25
Nelson producer making smart wines at smart prices, this is from a small vineyard and is Waimea's second harvest of this varietal. It is textural with mineral notes and subtle flavours of biscuit, peach and bayleaf and a long, dry, spicy finish.