Little-known European wines can spice up your life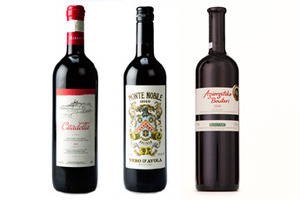 As local sauvignon blancs account for a significant chunk of the samples I'm sent, however sensational they may be, I do get a rush of excitement when something out of the ordinary turns up ... such as the box of wines from Malta that recently arrived at my door.
I'd never tried wines from this country before and they reminded me of the vinous pleasures to be had from the lesser-known wines of the Mediterranean.
Despite having spent my formative years in London - a veritable El Dorado of international wines - not a drop from this Mediterranean archipelago had ever passed my lips.
Furthermore, here in New Zealand what we get to see is somewhat limited, given the parochial nature of our wine market and the fact we're just too small and far away for most smaller international producers to consider as an export market.
We largely have to rely on adventurous local importers, such as La Cantina's Ben Naden, who has just started bringing in the Marsovin wines that provided my first taste of Malta.
It was someone in a neighbouring shop with connections to Malta that put Naden on to Maltese wines, which he discovered no one had imported into New Zealand before.
"As an independent retailer, I'm always looking for something new to get my customers excited," he explains. "It was a huge gamble, but I decided to bring in a mixed pallet."
Luckily, the risk paid off. Naden is now on his fifth shipment of a selection that ranges from simple sub-$20 quaffers to top wines such as Marsovin's Primus, a serious dry red made from sun-dried grapes, that sports a similarly serious premium price tag of $120.
After doing further research, I realised it was no surprise that Maltese wines had been under my radar.
Although the country has a wine culture dating back to 300BC, it's been a mere speck on the world's wine map, making small volumes of once-rustic wines largely consumed by tourists.
However, more competitive times ushered in the modernisation of its wine industry. There's been considerable investment in the country's vineyards since the country joined the EU in 2004 - including a joint venture by the respected Italian wine group, Antinori - and the launch of a classification system for quality wine production, based on the Italian model.
Malta is not alone in being an historic Mediterranean winegrowing nation that has reinvented itself in recent years.
Recent decades have seen Greece, the cradle of the vine itself, transformed from a purveyor of cheap plonk and pine-scented retsina to one of Europe's most exciting producers.
I'm far more familiar with Greek wines, having travelled from the vineyards of Macedonia in the north - where I marvelled at its exotically scented malagousia - to the idyllic island of Santorini in the south, with its lemon-scented and minerally assyrtikos.
Investment combined with a new wave of quality-focused producers has seen some stunning wines emerge, with the added intrigue of many being made from its wealth of intriguing indigenous grape varieties.
"Greek wines have changed so much," acknowledges Angela Etheridge, who started importing Greek wines some years ago through her family business Lepanto.
"However, it takes a lot of educating the consumer and marketing support."
Although Greece produces far more wine than Malta, there's sadly not much available here in New Zealand.
However, this may change with time.
As we become a nation of more sophisticated wine-drinkers with importers prepared to risk bringing us lesser-known wines, we're seeing more diversity in what's available.
That's great news and will help us keep up with some of these interesting developments in wines from far-flung corners of the world.

Recommended
Citadella Maltese Islands Red, Malta 2011 - $19.95
Made from syrah and the local variety gellewzah, this easy-drinking red displays juicy dark berry fruit, with an attractive savoury undercurrent and hint of herb. (From lacantina.co.nz.)
Monte Nobile Nero D'Avola, Sicily, Italy 2010 - $17.95
Better known and more widely available in New Zealand are the wines of Sicily. This great-value example exhibits rich sunbaked dark fruit laced with spice, notes of violet and a tarry undertone. (From wine retailers including Fine Wine Delivery Company, Alberton Fine Foods, Point Wines, The Wine Barrel.)
Boutari Nemea Agiorgitiko 2008 - $25
Ripe blackberry and cherry fruit combine with notes of cocoa, clove and pepper in this attractive wine made from one of Greece's most widely planted native black grapes. (From Glengarry, Bacchus Cellar, Cambridge Fine Wine Company, Scenic Cellars.)
- VIVA