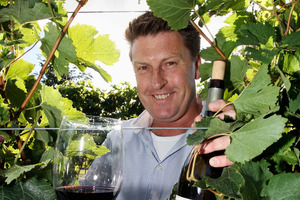 Why did you become a winemaker?
I figured out early winemaking was going to be a job I would never get bored of because it calls on many different skills and the playing field changes every year. It is also a job of maximising small percentages of quality towards an ideal; I like the idea of always striving for something that is just out of reach. That's the challenge of working with the finest wines.
Explain your winemaking philosophy?
It's very simple; growing the grapes is the most important part. Finding the site, choosing the vines and waiting for the vine age is where the work, luck and hopefully inspiration is. If it all comes together, as it has at Dry River, the winemaking philosophy is to preserve everything that is good about that grape, that site, that region in a bottle of wine. Nature and time do the work; as a winemaker I'm only involved for a small window of the life of a vineyard and a wine.
What makes your wines unique?
Dry River wines are created to deliver pleasure beyond a couple of years in the cellar. Most New Zealand wines are simple "flavour" wines; Dry River wines evolve layers of interest as the years go buy.
This approach is not uncommon in the old world.
The way we achieve this is by conservative winemaking that seeks to maximise the "'good stuff" so as to set the wine up to evolve over time. This approach is almost like looking after yourself when you are young, so you can age gracefully with all the benefits that maturity brings.
I'm at the bottle store - which of your wines should I buy for dinner tonight?
Possibly a Dry River gewurztraminer or Dry River viognier, both wines are seductive in their youth. Having said that, your best chance of finding these wines is probably not at the bottle store.
What about to save for later?
The wines that respond the best to cellaring are the wines that have the structure, richness and flavour in their youth that can then harmonise, soften and gain complexity as they age. For whites, the clear candidate is the Dry River riesling with its wonderful acid structure and potential to take on toasty, honeyed characters as it ages. For reds, I would suggest the Dry River pinot noir. Lovers of pinot noir enjoy this wine's ability to take on savoury complexity beyond simple fruit flavour; Dry River pinot noir has the ability to do this.
What is the best part of your day?
Getting to work in the morning and talking to my colleagues about what wine they had for dinner and with what food. There is no shortage of inspiration. Working in an environment that expands people's frontiers and enjoyment of life, is rewarding.
What's your favourite tipple at the end of the day?
Gewurztraminer, a wine that cannot be ignored. I love it chilled from the fridge. Alternatively, an outrageously aromatic and hoppy beer like Epic Armageddon or HopWired from Marlborough.
How do you feel about teaming up with Tetsuya Wakuda?
Excited. I think my palate and mind is about to be expanded. I like meeting people who push close to perfection; I'm expecting culinary surprises.
Talk us through the approach you're taking with the wine matching.
I'm expecting pure flavours from the best ingredients. Wine has an ability to heighten the senses, so we will work on matching the wines to enhance the food. Fortunately Dry River makes eight different wines each year, so there will be plenty of choice. I'm planning on bringing some surprises from the cellar; wines which are sure to produce some exciting taste experiences with Tetsuya's food.
What do you do when you're not working?
I work on our rural property with my family. When I'm truly relaxing it is often with a good book.