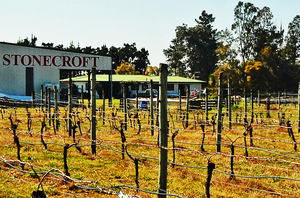 Hawkes Bay continues to produce some of the country's loveliest wine. Blessed with a generous warm climate ideal for ripening grapes and versatile, sympathetic terra firma, it's capable of beautiful reds and a slew of rich mineral-infused whites.
Experience and age count for a lot and the region boasts some of our oldest wineries. There's history in those hills and valleys and a decent number of wine producers have been doing the business for more years than they choose to remember.
Some of my own fondest wine experiences have been tasting wines from the Hawkes Bay - Bordeaux-style blends with character and sheer class, syrah with head-spinning qualities and oomph, mystical merlots and lower-case varietals like tempranillo and zinfandel that are gaining traction. The chardonnays can offer strength with subtlety and as much or as little oak to suit your palate. Some of New Zealand's smartest gewurztraminer, pinot gris and sauvignon blanc are all found here.
One of the first vineyards I stumbled across many years ago was Dr Alan Limmer's Stonecroft.
It didn't go terribly well, it was a statutory holiday and I wandered on to his property to buy some wine. He thought I was a bureaucrat from the Ministry of Whatever, trying to catch him out for making a sale on a day he wasn't allowed to trade.
Years later we laugh about it but at the time the good doctor was very grumpy.
Although he has now sold to the very capable Andrea and Dermot Monin, the Limmer legacy lives on, with a fine array of wines made with great care and the benefit of some significant vine age.
Established in the early 80s Stonecroft has one of the oldest wineries in the Gimblett Gravels. Quantities are tiny, everything in the vineyard is done by hand, organic methods prevail and the ongoing mantra is quality without compromise. Stonecroft was the first New Zealand vineyard to commercially produce syrah and the first to make zinfandel.
Syrah continues to be the dominant calling card, the gewurztraminers are full, luscious and big on personality, and although I still struggle to embrace zinfandel with great enthusiasm, theirs are chock-full of raspberry and cherry flavours with sweet spices wrapping up a smart alternative red.
Recommended
2010 Stonecroft Old Vine Gewurztraminer, $35
Very stylish and perfect as an aperitif or great with seafood and Asian-influenced cuisine. This wine has a lovely texture, refreshing acidity and lots of jasmine, rose blossom, lychee and guava.
2010 Stonecroft Serine Syrah, $25
This entry-level syrah offers excellent value for money with wonderful deep ruby and purple colour, soft tannins and a whisper of oak. Big, blackcurrant, anise and sweet spice flavours give a well-rounded finish.