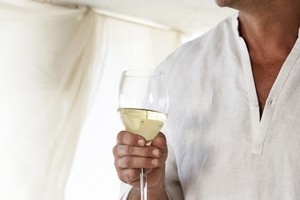 Riesling ... an international wine of mystery and intrigue, loved by wine buffs, misunderstood by most and loathed by those still scarred by a previous bad experience.
Leading the charge toward a riesling revival worldwide is New York-based restauranteur and wine bar entrepreneur, Paul Grieco. The riesling evangelist was recently on a whistle-stop tour of New Zealand, extolling the virtues of this sadly misunderstood grape.
"I've always had an attraction to riesling. I love to fight the good fight for the underdog and because it's the most derided grape on the planet, that's my challenge.
"I've always gone against the tide ... when everyone loved Bruce Springsteen I was for Depeche Mode."
Grieco has put his zeal and tenacity on the line. His three New York Wine Bars (all called Terroir) served riesling only by the glass for 94 days during summer. You can get all kinds of reds but if it's a white wine you're after, there's no choice.
I ask how this bold idea for the "Summer of Riesling" went down with his customers and staff.
"Initially the staff were upset I made the whole experience confrontational and they were uncomfortable. Now it has become cool and the staff are on board."
And the customers?
"Over 35-year-olds have bad riesling memories, so we need to bring them round again. I like to re-educate people, that's my primary role."
There's a choice of more than 30 riesling styles and Grieco, with his world view, is always on the lookout for great wine from anywhere.
"I embrace the lot. I'm not afraid of residual sugar, all I care about is balance. Riesling should not be driven by alcohol and it can go with any food."
And his expectations of New Zealand rieslings?
"I'm expecting a drier style. After all, it is a cool climate. They should be clear cut, precise and with defined acidity."
Felton Road and Craggy Range are current favourites and he's looking to try more of our rieslings.
"Germany is the only place in the world who can make wine with 8 per cent alcohol and it's still balanced ... we should better inform the customers."
Recommended
2010 Villa Maria Reserve Dry Riesling, $28
Stunning. Marlborough grapes and the usual attention to detail we expect from this producer. Clean citrus flavours with bursts of mild spice and a long, refreshing finish and a touch of sweetness.
2010 Esk Valley Marlborough Dry Riesling, $24
A full-bodied style with lots of grunt. As well as the usual citrus flavours there are peach, honey and tropical notes. Great with seafood or Asian dishes, this is great value.