Address: 2 Hobson St, Auckland CBD
Ph: (09) 307 7030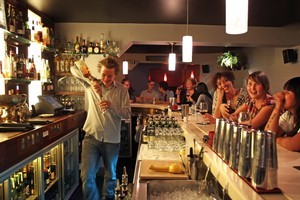 There are bars and there are bars and then there is Suite.
This exquisite spot at the foot of Hobson St has been a finishing school for bartenders since it opened some six-and-a-bit years ago and it continues to impress.
It starts with the look of the place. You walk down a winding staircase into a dim bar where excellence is the watchword. Fine wines, good beer and spectacular cocktails are the norm in Suite and I don't apologise for gushing about the place.
It's bigger than it initially looks, with intimate nooks and crannies around the place and a comfy bar to sit at while the wonderful bartenders smash out incredible drinks. If it's originality and quality you look for in a cocktail, this is a good place to come. Most of the staff have won awards and the bar's trophy cabinet is fuller than a beach's outhouse on a public holiday. The wine list isn't the biggest I've seen, but it is a thing of beauty, veering towards the aged and interesting, rather than the flashy and familiar.
The beer list manages to include something for everyone, from Galbraith's Munich lager to Lion Red, and the spirit list includes some of the finest brands available.
The food is simple, but well done, which is harder than it looks.The service is outrageously good and unobtrusive. If you want to be left alone, you will be, because these bartenders can read a customer like a book.
To be honest, it's hard writing a review of Suite because it means I have to gush like a freshly tapped oil well and it almost pains me that the only thing I could possibly complain about is that it isn't big enough for more people to enjoy it all at once.
Truly a wonderful experience.
Scores
Service: 5/5
Drink: 5/5
Food 4/5
Atmosphere: 5/5
Overall: 5/5