Top bottles to take you through the festive season.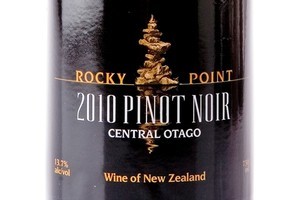 Offering a veritable smorgasbord of festive feasting, the Kiwi Christmas calls for a similarly diverse range of wines to match its many flavours. Now's the time to splash out on some special bottles, as well as getting in a good stock of more affordable staples to see you through the season.
CELEBRATORY BOTTLES
If you're looking to crack open a bottle or two of something really exceptional over Christmas, these are some of my top picks from wines currently available.
Dog Point Vineyard Marlborough Sauvignon Blanc 2011 $24.50
It wouldn't be a Kiwi Christmas without a bottle of the nation's favourite, sauvignon blanc and what better than one of our best? Unsurprisingly this hails from the label of sauvignon pioneers, ex-Cloudy Bay men Ivan Sutherland and James Healy. It's a powerful, complex example with an emphasis on intense savoury herbaceous notes of oregano and boxwood over ripe melon fruit supported by a zesty line of flint and citrus.
Serve a sauvignon like this as an aperitif or with shellfish such as scallops and oysters, asparagus, salads, and tomato-based dishes. (From Caro's; Farro Fresh; Glengarry; New World Devonport; Liquorlands in Newmarket, Forrest Hill & Massey Ave (Pukekohe); Bacchus Cellars; Hamilton Wine Company; Grantley's Liquor Merchants.)
Felton Road Block 5 Central Otago Pinot Noir 2010 $88.50
Central Otago has started to release pinot noirs from its promising 2010 vintage and in a recent blind tasting this emerged as one of my highest ranked wines. It's a superlative pinot noir from one of the country's top producers, which would make an amazing match with spring lamb or game birds. With a gossamer-like texture, the wine unfurls to reveal perfumed layers of rose and exotic spice, ripe cherry fruit and a subtle savoury undercurrent. (From First Glass, Caro's, La Barrique, Maison Vauron, Fine Wine Delivery Company, Peter Maude Fine Wines, Bacchus, Glengarry.)
Auntsfield Estate Southern Valleys Marlborough Chardonnay 2009 $32
Chardonnay is one of the traditional partners to the Christmas turkey, which requires a richly textured white. This impressive, high-toned example from the historic Marlborough estate, possesses plenty of weight and complexity, combining elegant white peach fruit with toasty cashew notes that lead to a long citrusy mineral finish. (Point Wine & Spirits, The Village Winery, Hobson Liquor, Epicurean.)
Squawking Magpie Hawkes Bay Gimblett Gravels Stoned Crow Syrah 2009 $39.95
If you're looking for something to go with cold meats, game, beef dishes, steak and barbecue fare then a local syrah is a sure thing. Squawking Magpie's syrah is certainly worth crowing about, with its seductive aromatic strands that encompass notes of liquorice, back pepper, star anise and cocoa running through dense and juicy plum fruit backed by savoury undertones. (From First Glass, Caro's, Hamilton Wine Company, Scenic Cellars, Advintage, Bellatinos.)
Muddy Water Waipara Dry Riesling 2009 $24.95
One of the most versatile wine styles, riesling will suit much of the season's fare: from shellfish and seafood - including those in richer creamy sauces - to salads, spicy Asian flavours and game. This is one of New Zealand's great dry examples, wonderfully intense with toasty honeyed notes that have developed with a few years in bottle. They join white peach fruit wrapped around a tight core reminiscent of tangy lime juice and river stones. (From Caro's, Advintage.)
Newton Forrest Estate Cornerstone Hawkes Bay 2007 $60
Past vintages of this svelte, sophisticated Gimblett Gravels blend made from the partnership between Australian viticulturist Bob Newton and Marlborough winemaker John Forrest have been holding their own against top Bordeaux in a series of high-profile blind tastings. It's easy to see why, with a taste of this cabernet-dominant blend revealing a deft balance between richness and restraint in its velvety textured blackberry and blackcurrant fruit infused with notes of liquorice, earth and dried herb. Drink with full flavoured meat dishes, roasts and hard cheeses. (From Fine Wine delivery Company, Farro Fresh.)
Terrace Edge Waipara Pinot Gris 2010 $22.50
Pinot gris is another great all-round white to have on hand over the holidays. With its hint of sweetness and fresh concentrated palate combining notes of stonefruit with acacia honey and cinnamon spice, this should suit spicy dishes, as well as making a great partner for pates and terrines, quiches, fish, poultry and even pork dishes. (From Crown Hill Cellars, Farro Fresh, Point Wines, Howick Super Liquor, Hillsdene Wine Cellars, New World Te Rapa & Tauranga.)
Wooing Tree Central Otago Rosé 2011 $25
Served well-chilled, a good rosé like this makes for great summer drinking, either on its own or with the likes of lobster, salmon, ham and many vegetable dishes. Wooing Tree makes a consistently attractive rosé, with this crisp, dry, silky specimen exhibiting pretty strawberry fruit and nuances of rose-like florals. (From Caro's, Glengarry, Herne Bay Cellars, Forrest Hill & Newmarket Liquorlands, La Barrique.)
Framingham F Series Trockenbeerenauslese Marlborough Riesling 2011 $60
Made in minute quantities by riesling supremo Andrew Hedley, this new wine from Framingham's impressive F-Series is one of the best dessert wines I've tasted to date from the country. The German name Trockenbeerenauslese denotes that it's been made from specially selected grapes that have been raisined by noble rot, which results in the most richly concentrated and sweet style of wine. With notes of candied orange, white peach, blossom, honey and ginger, it certainly is sweet, but this is perfectly balanced by its lemony acidity and light 7.5 per cent alcohol. Enjoy with fruit-based deserts and cakes or simply savour on its own. (From The Village Winery.)
Champagne Dumangin Ratafia de Champagne $58
Try a ratafia if you're seeking something different to enjoy with rich festive desserts, such as mince pies or chocolate puddings or even savoury fare, such as foie gras and blue cheese. Ratafia is made from unfermented grape juice from the Champagne region fortified by grape brandy to bring it up to 17 per cent abv in this case. Dumangin's ratafia is an opulent ensemble of dried fruit and candied peel, cinnamon spice, vanilla and nut that is sweet but not cloying.
AFFORDABLE OPTIONS
It's a good idea to have some less expensive bottles to pull out over the holidays. Here are some great value wines you can proudly pour that won't see you start the New Year overdrawn.
Millton Sparkling Muskats @ Dawn Gisborne 2011 $22
A sweet and light 8.5 per cent abv sparkler, with a pretty grapey palate infused with notes of blossom, that makes a fresh companion to Christmas pud and is also perfect with meringue-based deserts such as pavlova. (From Caro's, Fine Wine Delivery Company, Liquorland Forrest Hill.)
Sea Level Awatere Marlborough Sauvignon Blanc 2011 $19.99
Great value sauvignon blanc from Whitehaven winemaker Sam Smale's personal label, which exudes punchy notes of nettle and gooseberry over zesty lime. (From Fine Wine Delivery Company, Point Wines, Blend Wines, Bacchus Wines, Peter Maude Fine Wines, St Heliers Wines, Advintage Wines, Primo Vino, Scenic Cellars, First Glass.)
Rocky Point Central Otago Pinot Noir 2010 $28
This seriously good second label pinot from Prophet's Rock displays more finesse than many wineries' top examples, with rich, juicy morello cherry fruit seasoned with exotic spice and underpinned by some subtle toasty oak. (From Fine Wine Delivery Company, Wine Direct, Wine Vault.)
The Tohi Wairarapa Merlot 2009 $9.99
Pour your guests this and they'll never guess you paid under $10 for what is quite a classy little number with its supple, juicy midweight dark berry fruit, hints of coffee and a touch of food-friendly tannins. (From here.)
The Black Chook Sparkling Shiraz NV $25
Fun fizz with robust flavours to front up to barbecued foods and sweetness to support barbecue sauces. It is also a less conventional accompaniment to Christmas turkey and works with chocolate-based desserts and pates. Made by renowned Aussie winemaker Ben Riggs, it's a great example of sparkling shiraz, with mouth-filling black plum and berry fruit, notes of chocolate and cedary spice. (Liquorland Forest Hill, Liquor-land Newmarket, Redwood Cellar, Awara Fine Wines, Kohi Corner Store, The Wine Villa Te Atatu.)