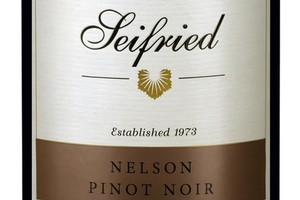 There aren't too many New Zealand wineries that have produced more than 35 vintages. For Nelson's Seifried Estate, this year marked their 36th vintage from vines first established in 1973. Nelson's largest winery, it has plantings all around the region and the genial Austrian, Hermann Seifried, is very much part of the landscape.
It's a family affair: wife Agnes, a former teacher from Southland, oversees the administration and PR, and their children are gainfully employed in various areas from winemaking to cellar hands and exporting. On a busy day they even wait on tables at the cheerful vineyard restaurant.
The Seifrieds' first two grandchildren were born this year and the babies are already regulars at the winery so you get the feeling that the Seifried legacy and future is assured.
Ever pragmatic and acknowledging that "the market has never been more fickle, with the high New Zealand dollar and a saturation of juice, it's been time to look outside the square and find new opportunities and homes for our wines", Seifried says - hence a new joint venture with Pacific Prime Wines.
This is a group of established family-owned New Zealand wineries (and good friends) who have launched their own company to facilitate ease of selling wines overseas, especially to the United States, which can be an arduous, complicated and difficult process.
Together, the group - made up of Carrick, Lake Chalice, Forrest Estate, Mai Mai Creek and Seifried - are able to offer a range of styles, brands, regions, varieties and prices across the collective portfolio.
Seifried says he retains something of an Austrian palate and consequently has a fondness for riesling and gewurztraminer but is happy to go with whatever works. This year sees the launch of the second vintage of Austrian favourite gruner veltliner. "It's still a hard-sell in the local market but an interesting alternative for our aromatic fans," he says.
Sauvignon blanc, pinot gris, chardonnay and an ice wine are part of the mix, as is a pinot noir.
Nelson, as a winegrowing region, does not really hang its hat on any one varietal so has a reputation for a wide range of styles unlike, say, Marlborough, Central Otago or Hawkes Bay. It also owes a huge debt to the gentle giant from Austria.
2011 Seifried Nelson Pinot Gris, $21
In a sea of mediocre pinot gris this is not only well-priced but rich, smooth and deeply satisfying. Intense apricot and almond characters with splashes of spice and herbs. A lovely wine with spring salads and vegetables.
2010 Seifried Nelson Pinot Noir, $21
Well-priced, easy early-drinking and highly quaffable, with soft cherry and strawberry characters and a dash of warm spicy oak. A super-value summer sipper.