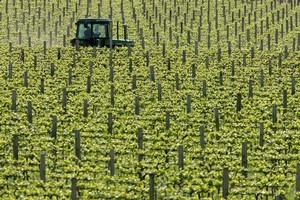 Wine lovers need not fear. Low-priced New Zealand wine will be around for a while yet, but in the medium to long-term, prices are expected to improve.
The New Zealand wine growing industry has largely recovered from the wine glut that hit the market over 2008-9, but with exports accounting for 75 per cent of its revenue, the big issue facing winemakers is the high value of the New Zealand dollar, industry leaders told the New Zealand Winegrowers' Romeo Bragato conference in Auckland last week.
The New Zealand dollar hit a record post-float high of US88.42c early this month. The currency has since fallen back but it remains a headache for all exporters of primary produce.
NZ Winegrowers chairman Stuart Smith said signs of an industry turnaround had yet to flow through to many producers.
"A significant number of wineries and growers are still struggling with the lingering effects of the supply imbalance, inflamed now by the gyrations of the exchange rate," he said.
"These businesses are hurting and hurting badly."
The industry exports $1.1 billion of wine annually, making it New Zealand's ninth biggest export goods sector, but the currency is doing the sector a lot of damage, he said.
"For me the number one challenge we now face as an industry is the strength of the NZ dollar."
But Smith said that despite the currency, export sales were stronger than ever.
"If they continue at the current rate, I believe we will see some real tension in the supply [and] demand balance in coming months."
New Zealand is the world's 11th biggest wine exporter by volume and 8th by value, with the third largest share of the global super-premium wine market, behind France and Italy, he said.
NZ Winegrowers' chief executive Philip Gregan said the wine industry was in a much better position than it was three years ago, following the bumper 2008 vintage. At that time, a 285,000 tonne crop resulted in a 27-million litre oversupply - eroding wine, land and grape prices.
"We have made a lot of progress with volume and it is now time to address the value challenge," Gregan said.
"What has happened in the last few years, with our supply imbalance, is that New Zealand wine has become cheaper in the New Zealand market place, so it has displaced imported wine - that's the big change."
The wine glut led to the up-rooting of around 500ha of grape vines, out of a total of 33,000ha, over the last two or three years.
Gregan said more vines may need to be pulled out, but only on a small scale.
Gregan also said he expected there to be some consolidation in the industry through mergers and acquisitions.
"I think we will see it among some of the wineries, perhaps some second-tier wineries, with people who want to get economies of scale."
Gregan said economically priced New Zealand wines would be around for some time yet.
"It's not going to end quickly, so we would imagine that we will see a gradual increase in New Zealand wine prices over the next two or three years," he said.
- APNZ