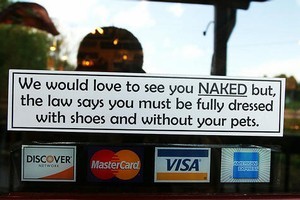 At left, dress code information in bar window. (Via Curbstomper)
Carving out a name for yourself
Writing your name in the sand is not as simple as you'd think, especially if you have money to burn and an enormous ego. Abu Dhabi ruler Sheikh Hamad Bin Hamdan Al Nahyan had his staff carve 'Hamad' into the sand on his private island Al Futaisi, across the water from the city. The letters are 1km high and the name measures more than 3km across, according to the Sun. The first two letters have been flooded with water so that the sheikh can take his launch for a pootle up them.
When being tipsy pays off
"I went with a friend to buy a Kit Kat. When she ate it she found out it didn't have any biscuit in it. After some wine, she decided to write a letter of complaint to Nestle (and, being drunk, she also decorated the letter with a crayon drawing of a sad-looking pony covered in glitter). A week later she got an apologetic letter back with a comment on how nice her drawing was, and with a £35 [$66] voucher for chocolate - that they suggested her mother disburse to her - her drunken scrawl and pony drawing evidently making them think she was about 7, not 19." (Source: B3ta.com)
Beauty on the building site
A Brit builder's classified ad for a 'nail technician' has caused confusion as beauticians applied for the job, which was on a building site sorting through metal nails. The builder wanted somebody with previous nail experience. "A few emails came in from young women and initially we thought nothing of it," explained LocalTraders.com, who placed the ad. "However, when more and more came in, we realised the advert might have been misunderstood." (Source: Metro.co.uk)
Vileness from the style gurus
In its "The 40 Worst-Dressed Cities in America" online feature, GQ Magazine picked Boston as its biggest style offender and the writer - showing remarkably poor judgment - made this comment: "Due to so much local in-breeding, Boston suffers from a kind of Style Down Syndrome, where a little extra ends up ruining everything." The analogy has since been removed. (Source: Boston Herald.com)
No mystery to broccoli origins
A former Countdown produce staffer explains: "The reason the broccoli sign states 'NZ or Australia' is not that they don't know. They order in only New Zealand stock but due to the high demand for the product, especially while it's on special, they may also need to bring some in from Australia to bulk up their stock. You may have also noticed that bananas are often 'from Ecuador or Philippines'."