Fight the cold-weather blues with a tasty, warming tipple, says Don Kavanagh.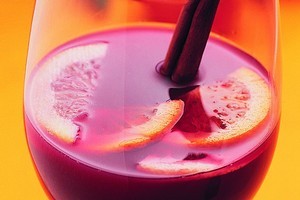 It's a miserable life sometimes. As I sit here writing this, I look outside and see the grim, grey skies of Auckland unleashing torrents of rain. The wind is howling, the rain rattling like pebbles on the tin roof of my little shack. Frankly, it's enough to make me want to pack it in and go work in a desert somewhere.
This is exactly the sort of weather I moved to New Zealand to avoid, and I must see if I can get some kind of refund on the outrageous amount of money they gouged out of me to enter the country.
Still, it's an ill wind and all that, and the vile weather has at least turned my thoughts towards something warming and hearty ... and I'm not thinking soup.
Instead I'm thinking of hot toddies, mulled wine and Irish coffee. Mulled wine (or mulled cider) is a lovely way to wash away the winter blues, and it is easy to make at home if you can't find any at your local hostelry.
Simply take some red wine don't waste good stuff on this, even cask wine is acceptable - pour into a crockpot, add brown sugar, two cinnamon sticks, a vanilla bean, cloves, some lemon slices and nutmeg and heat through.
Serve it quite warm, as it can be a bit cloying if it's too cold.
For Irish coffee, simply add a measure of whiskey to coffee in a long glass and stir. Pour cream over the back of a spoon so it floats on top and voila _ the perfect winter pick-me-up. You can substitute other spirits like rum, brandy or even tequila for the whiskey if you prefer.
And if that doesn't warm the cockles, then simply add hot water to a glass of whisky, chuck in some honey and a lemon studded with cloves. This is especially good if you have a cold.
Drink a few of these and you won't care about the weather, your runny nose or indeed anything other than simply lying down in a warm bed.
* Don Kavanagh has been involved in the hospitality trade for more than 25 years and is the editor of Hospitality magazine.