Just north of Auckland is a cluster of our best vineyards, discovers Susan Edmunds.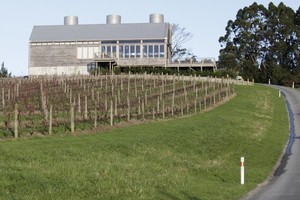 Less than an hour's drive from downtown Auckland, Matakana and its vineyards are a great day trip destination for anyone wanting to get out of the city. The region has a totally different feel with lots of Italian-inspired architecture, rolling hills covered in vines and gorgeous views around almost every turn.
Ransom Wines
Valerie Close, Warkworth, open Tuesday-Sunday,10am- 5pm
The first stop when you are coming into Matakana from Auckland is Ransom Wines, just off State Highway 1 before you get to Warkworth. It's a family business, started in 1993 by Robin and Marion Ransom and their son, Gabriel. Robin and Gabriel are involved in the winemaking and Marion is the wine bar and cellar door manager.
Food is a big part of a visit to Ransom - order a platter of local produce ($19 per person), and a flight of wine tastings ($12) and have a picnic (rug supplied) on the grass outside, or take a seat on the deck with views out over the vines.
Every time I have visited, I have not been able to go past ordering a glass of the vin gris, a light rose wine with gorgeous strawberry flavours. Ransom Wines is also known for its red wines - the Ransom Dark Summit is a standout.
Brick Bay Wines
Arabella Lane, Snells Beach, open daily, 10am-5pm all year
Brick Bay is probably the most picturesque of the vineyards. Wine tasting is done inside the Glass House, a Noel Lane-designed, light-filled glass room cantilevered across the waterlily-fringed lake.
Visitors can choose between a wine tasting ($5 for five wines) at the bar, or taking a seat, cafe-style, over the water with a bottle or glass and a platter of food. We ordered a cheese platter, a glass of pinot gris and one of the Brick Bay Pharos, a smooth red blend that is the signature wine of the vineyard. Brick Bay also produces pinot gris, rose and other fruit-driven red wines.
As well as wine, Brick Bay offers a sculpture trail through the vines. It takes about an hour and includes 40 artworks - on the day we visited it seemed to be very popular with families including grandparents and young children.
Ascension Wine Estate
480 Matakana Rd, Matakana, open Monday-Friday, 11am-4pm, weekends and holidays, 10am-5pm
Ascension feels like the most commercial of the Matakana vineyards. It's known for the concert series it hosts in summer and is a popular wedding venue. We arrived late morning and had a wine tasting at the cellar door before going through to the restaurant for lunch. You can choose to taste three wines for $4 or five for $6. My favourite of the Ascension wines is the Flora, a pinot gris-ish white. The grapes were planted as a special clone of the pinot gris grape but DNA testing showed that it was actually something completely different - a rare variety called Flora.
Ascension is also known for its red wine - a merlot blend, an easy-to-drink merlot malbec, cabernet franc and pinotage were standouts. Ascension's bistro is the full restaurant experience and lunch was a treat in the courtyard on a sunny winter afternoon. Some of the grapes used in Ascension's wines are sourced off-site.
Mahurangi River Winery
162 Hamilton Rd, Warkworth, Thursday-Monday, 11am-4pm
The gorgeous view over the vineyard from the deck of Mahurangi River's cafe was what struck me when we arrived for an afternoon wine tasting. The cafe offers a full menu, including starters like salt and pepper squid and local oysters and mains including a white wine poached chicken and citrus salad, and grilled venison and Italian panzanella bread salad. But having just gorged ourselves on lunch, we just opted for a flight of wine tastings ($5 for five, free if you buy a bottle of wine) and some bread and dips.
We were told the cafe had suffered due to a bad review when it first opened but it was faultless on the day we visited. The waitress was extremely knowledgeable and a laminated guide that showed what vines were which variety appealed to our nascent sense of being virtually wine experts after a day of vineyards.
I'm not usually a chardonnay fan but the Field of Grace 2009 reserve chardonnay ($54 a bottle) was beautiful - lovely and light. The rose was also a standout - apparently people have been known to pour it over ice in beer mugs on summer afternoons. Mahurangi River is heavily local and all the wine produced comes from grapes grown on site.
Heron's Flight Vineyard and Runner Duck Estate
49 Sharp Rd, Matakana and 37 Duck Creek Rd, Warkworth. Wine tastings: Tuesday-Friday, 11am -4pm, weekends, 10am-5 pm. Restaurant: Tuesday-Sunday, 11am to 3.30pm(last order), Friday and Saturday from 6pm onwards
Heron's Flight was the first vineyard to offer a cellar door, and has been producing wine for 20 years. Recently, they joined forces with Runner Duck Estate and tastings for both wineries are done at Plume restaurant ($12). A really knowledgeable and friendly sommelier took us through five red wines on the afternoon we visited.
My companion professed not to be a red wine drinker to begin with but she was won over - especially by the Runner Duck Syrah ($40) and the Heron's Flight Sangiovese 2005 ($55), which proclaims to be one of New Zealand's best red wines. After our tastings, we took a seat on the terrace overlooking the vines for a glass of our favourite.
TRAVELLERS' TIPS
Getting around: While the vineyards are all reasonably close together, it's not walking distance. Nominate a sober driver to take you between them (usually about a five-minute drive), hire a taxi from Warkworth Taxis or look up one of the local wine tours on offer.
Great Taste Tours and Warkworth Tours offer trips out of Matakana or Warkworth, and some Auckland tour operators provide transport into the region from the CBD.