Winter is a time of rich and earthy flavours. Viva selects some robust wines that suit the season's cuisine and asks the opinion of their makers on the best foods to go with them.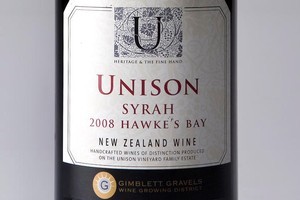 Esk Valley Gimblett Gravels Merlot Cabernet Sauvignon Malbec 2008 $23.99
The so-called Bordeaux blends, usually based around the cabernet sauvignon or merlot varieties, have the weight to work well with red meats and full-flavoured casseroles. This consistently captivating and well-priced example from Esk Valley is velvety textured, with ripe and radiant dark berry and plum fruit, notes of dark chocolate, liquorice and spice, exhibiting a density and richness rare at this price. (Widely available in supermarkets and fine wine retailers.)
Serve with: "Oxtail slowly cooked in red wine," is the dream match for Esk Valley winemaker, Gordon Russell for this wine. "My wife made this stew for my cellar crew and partners last weekend to celebrate the end of harvest. It was cooked over three days and fell off the bone when served, with a watercress and roasted walnut salad and kumara mash as great accompaniments.
"Herb-crusted lamb racks would be my other recommendation, served with mash and a red wine reduction - the classic Bordeaux match of Pauillac lamb with Bordeaux wine, but with a Kiwi twist."
Chateau Pesquie Terasses Ventoux - Rhone Valley Vineyards 2009 $23.50
France's southern Rhone Valley is home to some spicy red blends that make great partners for strapping meat or vegetable stews and pies. From Cotes du Ventoux pioneers, Chateau Pesquie comes this supple, well structured and full-bodied grenache-based beauty that's packed with concentrated and juicy black and red cherry fruit, plus notes of kirsch liqueur and roasted spice. (From Maison Vauron.)
Serve with: "Provencal Daube de Boeuf," suggests Scott Gray, from the chateau's importer, Maison Vauron. "The wine is gutsy enough to handle this."
Unison Hawkes Bay Syrah 2008 $40.50-$45
Syrah is great with game, such as venison, as well as roasted and grilled meats and mushroom dishes. Unison's syrah is fragrant and sleek, with aromas of spice, white pepper and leather, leading to a silky and savoury palate in which notes of mineral and spice mingle with fresh red and dark berry fruit. (From Artisan Fine Wines, Bacchus Cellars, Caro's.)
Serve with: "It works well with anything slow-cooked, such as lamb shanks or venison casserole," notes Unison owner, Terry Horn. "It's also amazing with bitter dark chocolate, so the likes of chocolate tarts and tortes suit it well."
Terrace Heights Estate Marlborough Viognier 2010 $24.95
While red wines make sense with a lot of hearty winter fare, fuller-bodied and feisty flavoured whites such viognier, gewurztraminer, oaked chardonnays and richer styles of pinot gris also have a place at the season's table. Viognier is a good match with spicy foods, such as mild to medium Thai and Indian curries, as well as chicken and pork dishes. Aromas of exotic spices, stone fruit and lemon blossom emanate from this voluptuous and perfumed viognier, whose richness is counterpoised with a zesty citrus edge. (From Caro's, Hamilton Wine Company.)
Serve with: "Chicken cooked with lemon, thyme and puy lentils," thinks Terrace Heights Estate proprietor, Steve Hammond, or something spicy, such as "Asian pork belly, slow-cooked or crispy".
McHenry Hohnen Tiger Country Margaret River Tempranillo Petit Verdot Cabernet Sauvignon 2006 $34
Wines that have mellowed with age are another style suited to foods served up at this time of year. Tiger Country is an interesting five-year-old Australian red blend, whose varieties straddle Spain and France; it is rounded and savoury, its deep and stylish blackcurrant fruit tinged with notes of meat, spice and dried herb. (Available on order from all good wine merchants.)
Serve with: "Slow-cooked complex meat style dishes go with the Tiger Country, such as slow-cooked French cassoulet or osso buco," recommends McHenry Hohnen winemaker and proprietor David Hohnen. "The Tiger Country will also compliment as an after-dinner wine with hard cheese."
Takutai Nelson Pinot Noir 2009 $15.60
Pinot noir makes a classic match with game meat and birds, as well as the earthy flavours of mushrooms. Made by Waimea, this savoury specimen has tangy dark berry fruit, with aromatic nuances of rose and rosemary and a solid spicy core. A seriously good wine at a surprisingly low price. (From First Glass, Scenic Cellars.)
Serve with: Mushroom-based sauces make great matches with this wine, advises Martin Carrington from Waimea, but "mushroom and sage risotto would be my pick", he says.
Seresin Marlborough Pinot Gris 2009 $30
As well as setting off spicy dishes, weightier styles of pinot gris can also work wonders with pork or the sweet flavours of onion and root vegetable-based dishes. This sensational example from biodynamic producer Seresin is intense and oily textured, building through layers of white peach, nectarine, custard, honey and ginger, to a fresh, minerally food-friendly finish. (From The Village Winery, Caro's and other selected fine wine stores.)
Serve with: "A hearty slow-cooked shoulder of wild pork, oven-roasted peppers and tomatoes and mashed potato," says Seresin winemaker, Clive Dougall. "Otherwise, it always goes well with pate or pasta, especially with a creamy walnut and fresh truffle sauce."
Artero La Mancha Tempranillo 2009 $15.50
Warmer climates tend to produce the ripe and robust styles that suit the season's more assertive flavours, such as La Mancha, the hot and arid plain in Central Spain where this wine hails from. A great value drop, this is a medium-weight wine with tempranillo's typical strawberry and raspberry fruit, bright and fresh with a savoury undertone. (From Scenic Cellars, First Glass, Bacchus.)
Serve with: "Our own Scenic Cellars 'Vine Cafe' lamb and apricot ragout," suggests Ian Isaac from Scenic Cellars, which brings Artero into the country. "Or duck breast with leek and almond risotto."
Puriri Hills Estate, Clevedon 2007 $40
A beautifully balanced blend of merlot, cabernet franc and carmenere from this Bordeaux-inspired estate south east of Auckland. Its svelte and juicy dark berry fruit is ripe yet restrained and infused with notes of roasted spice and freshly ground coffee and savoury characters. (From Kemp Rare Wines and other fine wine merchants.)
Serve with: "I think this wine is particularly good with strong flavours, such as tomatoes and olives in many Italian pastas," says Judy Fowler, owner and winemaker of Puriri Hills. "I also love our wines with mushroom dishes and soup or winter vegetables, such as kumara. My favourite match though is with the gamey and fruit flavours of medallions of venison served with a sun-dried tomato and strawberry sauce."
Graham's Six Grapes Reserve Port $59.99
The colder months are the perfect time to be enveloped by the warming pleasures offered by fortifieds, such as port. Graham's Six Grapes is a consistently impressive label, blended to be as similar as possible to a young vintage port. Sweet and generous, it's ready to drink now, boasting rich and vibrant plum and dark berry fruit overlaid with notes of spice, fruitcake and nut. (From selected fine wine stores.)
Serve with: Graham's assert that Six Grapes is "delicious served at the end of a meal, for example with rich, nutty or chocolate desserts, as well as strong cheeses".