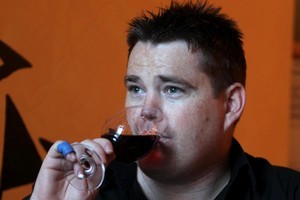 The dreaded wine headache could be a thing of the past thanks to a lipstick-sized spray that claims to neutralise the allergy-causing preservatives in wine.
Importers of So2Go vials and spray bottles say the product has been flying off the shelves since it was introduced last year.
But wine experts are sceptical that the chemical make-up of wine can be altered without damaging the taste.
So2Go New Zealand distributor Ian Isaacs estimated that about one in 10 people experienced headaches, rashes, stuffy noses and hayfever-like symptoms as a result of a wine allergy.
Two sprays of So2Go were enough to cut the sulphur dioxide content in a bottle of wine by about 80 per cent. "It doesn't affect the taste at all," said Isaacs. He said the only risk was getting a strange look as you dropped the product in your drink.
The Herald on Sunday enlisted Mikey Leigh, manager of Auckland City restaurant Wine Loft, to blind test So2Go.
One glass of wine was sprayed and he struggled to pick up its aroma. The non-sprayed glass "smells bigger", he said. The taste was the same.
"The taste seems the same," he said.
SUPPING WITHOUT SUFFERING: FRANCES MORTON TESTS So2Go
I have never been tested for an allergy to wine so my suspicion of having a reaction to sulphides is entirely unscientific. However, I do often wake up with a headache after just a couple of glasses of wine, far too few to warrant a genuine hangover, and was curious to see whether So2Go may help.
I surreptitiously sprayed two pumps of So2Go in my glass in a swanky downtown Auckland bar hoping no one thought I was a drink spiker.
I selected the cheapest red wine on the list, which was a good choice since the spray did tarnish the wine with a chemical taste. It would be a mistake to use it in that prize bottle of pinot you have been cellaring.
Despite that slight tang, the wine went down nicely. And best of all, I awoke the next morning with no trace of a headache.