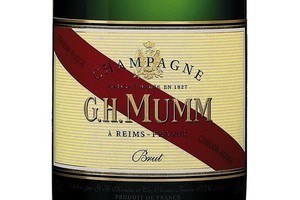 A cloud of scepticism was descending. "We will taste the Champagne first at eight degrees in the classic narrow champagne flute and you will get accentuated chardonnay flavours," said Didier Mariotti, Champagne G.H. Mumm's chef de caves.
"Then we taste the same wine from the same bottle at 12 degrees, this time in the more traditional larger pinot noir bowl-shaped glass, and this will allow the pinot noir to shine."
Mariotti is talking about one of the world's finest elite luxury champagnes cuvees, Mumm Rene Lalou 1999. A blend of 50 per cent chardonnay, 50 per cent pinot noir, it is made solely in exceptional vintages with a very precise selection of grapes only from grand cru sites. No Petit Meunier is ever included (a grape that is often part of French Champagne) because there are no Petit Meunier grand cru villages - grand cru being the best of the best.
A temperature gauge is produced. The Champagne is duly tasted at the prescribed temperatures in two different-shaped glasses.
My scepticism lifts. I get it. It's true. At eight degrees in the flute it's all meringue, brioche, warm bread and lemon pie flavours. In the burgundy glass at 12 degrees it's elderberry, caramel, dark fruits and a slither of licorice - and the Champagne appears to have more body.
I ask to be forgiven for expressing doubt. I am absolved. "In Champagne the blend is always important, one plus one doesn't always equal two," says Mariotti, "Champagne is the only wine that is acceptable to drink at any time of the day ... you rarely hear of a beer breakfast but a Champagne breakfast is perfectly acceptable."
Mariotti who is from Corsica and denies any mafia connections has been cellarmaster for five years at Mumm. It is the third largest Champagne brand in the world and ships between eight and nine million bottles a year ... that may seem a lot but there are 25 million bottles held in reserve, just waiting for that special occasion.
There is a natural affinity to a celebratory glass of bubbles. When you have a Champagne occasion only Champagne will do and Mumm's success is based on its obsession with freshness and high quality fruit.
Recommended
Champagne Mumm Cordon Rouge $85
Entry-level flagship of the House. It has big rich bubbles that are not overpowering, with citrus aromas, apple, apricot and peaches on the palate.
Champagne Mumm Cuvee R. Lalou Vintage 1999 $360
Only 1000 cases produced. NZ's allocation is just 40 and this is the first vintage to be launched here. A wine for the true connoisseur. It has complexity, multi-layered flavours and a huge, lingering finish.