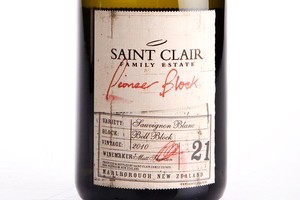 "Pinot noir is not easy to make. It's a bitch." It's a blunt opening line from Marlborough winemaker Matt Thomson.
Thomson is a journeyman. Most of his time is taken up as head winemaker at Marlborough's revered, largish, family-owned winery, Saint Clair. He also has an interest in the pinot noir and sauvignon blanc-producing Delta vineyards, and travels frequently to Italy for more winemaking duties. The rest of the time he sleeps.
We kick off our dinner together to sample his wines with an obligatory sauvignon blanc from Delta. While New Zealand's flagship wine sits low on my personal totem pole of varietals, it cannot and must not be spurned or avoided. Delta's is classic Marlborough but with a twist - classic in the sense that the lively gooseberry, tropical flavours are evident, but it's saved from being just one of the pack by a twist of brine and wet stone with a pleasant chalky aftertaste. The current vintage, 2010, is smartly priced at $20 and only available at the winery.
Thomson got into wine early. His parents appreciated a fine drop and he was introduced to wine as a teenager.
"Looking back, I spent all my disposable income from age 16 on wine."
It has paid off. Thomson has a fine palate and a keen eye for expressive wines with not too much interference at the wine crafting end of the business.
"I look for richness and good structure," he says. With this in mind we try some back-vintages of the top tier Delta "Hatters Hill" pinot noir. They are without exception quite lovely. All have big lively aromas in the glass and are very enticing. The promise on the nose is delivered in the mouth - brambles, violets, a dash of savoury and that velvet-covered brick quality found in pinots that don't want to give away too much too early and invite you to cellar them for a while for greater future enjoyment.
The older vintages are more complex and get considerably darker with age. All are memorable. Whatever the degree of difficulty in making pinot, Thomson's conquered it.
Recommended
2009 Delta Pinot Noir, $25
Stunning value to quality ratio. Arguably the best and cheapest pinot around. Only 7000 cases made, it is clean, lively and not overly fruity with lashings of spice and herbs. Popular in Japan and Sweden.
2010 Saint Clair Pioneer Block 21 Sauvignon Blanc, $25
Matt Thomson's mercurial magic worked on another super Saint Clair sauvignon. A single-vineyard Marlborough wine with powerful aromas of blackcurrant, green capsicum and gooseberry. Sensational with seafood.