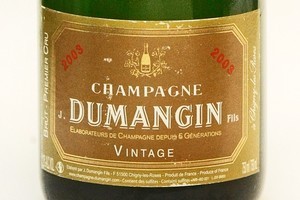 With an annual output of around only 150,000 bottles, Champagne Dumangin is probably not on your wine radar. It's not exactly in your face, clamouring for attention. Not yet.
Gilles Dumangin, fifth-generation owner of the boutique "Elaborateurs de Champagne", has just visited our shores and is keen for New Zealanders to embrace his fine product.
And fine it is, especially if you prefer a drier, less sugary champagne style.
Dumangin's great-great-grandfather Hippolyte kicked it all off in 1890 and began blending grapes and reserve wines to create a fruity perfectly balanced cuvee.
The total number of hectares for their own vines is just 5.6, but as Dumangin says, "I'm still a grower, I don't buy wines, I buy grapes from growers whom we have worked with for almost two decades."
Dumangin has a clear focus of who his clients are likely to be.
"We're so small, we concentrate on mature markets and are looking to grow the new fine wine connoisseur."
He's also a realist. "Although I prefer my wines dry, I need to make sweeter wines for most of my customers, but the best champagne for me is the one with the least sugar."
Dumangin says his philosophy is to design champagne for a variety of palates and export accordingly. For example, in the United States the champagne is made in a very sweet style, more than double that preferred by drinkers in Norway or Japan.
In terms of sweetness where do New Zealanders sit? "They tend to be in the middle," says Dumangin.
He's probably right, but having tried nine of the champagnes I found myself attracted to the "zero dosage", bitingly drier styles, although I suspect that I would be in the minority.
And a word of caution. "Neon lights are the enemy of champagne," says Dumangin. "Champagne gets attracted by light."
Which will explain why Dumangin's clear bottles come with a protective dark cloth wrapper.
Dumangin Premier Cru Brut Rose NV, $85-$95

A very pale salmon colour with a clean, dry finish. The producer's best-selling wine and 50 per cent of total production. A blend of chardonnay and pinot noir with a dash of pinot meunier, it is a very classy drink.
Dumangin Premier Cru Vintage 2003, usually around $120, introductory price of $99
From a vintage bursting with flavour this is drinking well now but will continue to develop. It is light, bright and fruity, a classic. It is 54 per cent chardonnay, 46 per cent pinot noir.