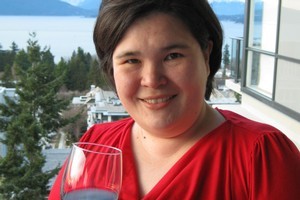 A woman who is set to become China's first Master of Wine is helping Kiwi winegrowers introduce their product to the huge market.
Of English and Chinese heritage, Fongyee Walker's initial field of interest was classical Chinese literature.
But, while studying at the University of Cambridge, she became involved in the wine-tasting team and has turned her interest into a job.
When she and her husband moved to China permanently four years ago, they set up a wine education and consulting company. One of their clients is industry body New Zealand Winegrowers, which is trying to develop the small but promising market for Kiwi wine in China.
China is now New Zealand's fastest-growing wine export market, with shipments increasing by 180 per cent last year.
Walker is studying towards her Master of Wine, an industry qualification which just 288 people around the world currently hold. If all goes well she will be the first Chinese person entitled to put the letters MW after her name.
She will be educating those who attend NZ Winegrowers' first tasting in Beijing this week.
"We're basically helping them with our knowledge of the local market and our contacts here to get a really good turnout," said Walker.
The Kiwis were also hoping to attract people from some of the second-tier cities, where she had done a lot of teaching. "I've sent emails around to all my old students saying, 'I expect you to turn up and taste lots of New Zealand wine'."
In China, the level of understanding about wine, and New Zealand wine in particular, is low.
Walker recently did a wine tasting for mid-level managers at mobile phone company Nokia. They asked her to recommend wine at certain price points. "I said, 'above 200 yuan ($38) New Zealand wine, because it won't disappoint you ever'.
"And a couple of them went, 'New Zealand makes wine'?"
Wine was not always available easily in China, with only some supermarket chains stocking it and only top, European-style restaurants offering a wine list.
Strictly speaking there were no BYO restaurants and, although rules could be bent, the eateries would not have any wine glasses. "You could bring your own wine but you'd drink it from teacups."
Chinese wine consumers often bought online but the price of New Zealand wine meant that they were a bit scared to try it. That was where the education came in, she said.
"I'd love to work on these middle-management, well-off, white-collar people who obviously eat out quite a bit, who are fascinated by wine, but they don't have the income to go to the five-star restaurants all the time," said Walker.
Dave Kenny, sales and marketing manager at Marlborough's Wairau River, said educating people on how to drink wine was a big part of it.
He told the story of a woman who came to a tasting and honoured the Chinese tradition of toasting. "She drank a bottle of our pinot by toasting everyone. She had to be carried out."
The good part was that New Zealand had an opportunity to develop its image with people such as Walker.
Nothing happens overnight in China and Wairau River has been working on developing its market there since 1995. "You think everything's moving fast, then there's almost like a pull-back stage," Kenny said.
NZ Winegrowers marketing manager Chris Yorke said 110 wines from 20 wineries would be presented at the Beijing tasting. The industry body was looking at doing a series of seminars with Walker in major Chinese cities.
It planned to invite the top students from each seminar to an event with New Zealand Master of Wine Bob Campbell, and to award the top person from that event with a trip to New Zealand.