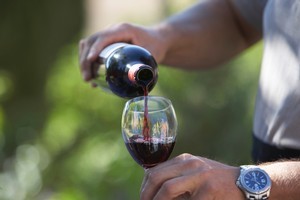 Soaring sales of imported wines in China may not be so promising for New Zealand wineries, says a big rural bank.
"In terms of New Zealand wine producers, the future promise of China is somewhat tempered by the bias towards red wine consumption and a lower level of consumer recognition of New Zealand wine at this stage," said Rabobank senior analyst Marc Soccio.
Rising incomes in 2010 made foreign wines increasingly accessible to Chinese market consumers, Soccio said in a quarterly report on wine he co-authored and released yesterday.
The scale and durability of the growth in Chinese demand for grape wine in recent years had been remarkable in a global environment afflicted by weak consumer spending, and most of the world's major wine-producing nations have participated in the growth of the Chinese market.
French producers occupied a commanding position.
But despite the market's bias towards red wines, the combined markets of Hong Kong and China now ranked as New Zealand's fifth largest export market and the most lucrative major market by some margin.
Separately, a New Zealand Trade and Enterprise report said red wine was drunk by Chinese consumers almost exclusively as a table wine accompanying a meal, and banquets generally involved competitive drinking among men.
Ordering expensive dishes and drink demonstrated respect for guests, and "expensive bottles of red wine have become a trophy drink of the Chinese new rich to demonstrate wealth and good taste," Trade and Enterprise the report said.
The annual value of New Zealand wine exports grew 6.9 per cent to US$1.09 billion ($1.41 billion) in 2010.
- NZPA