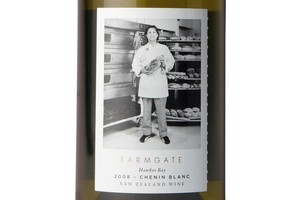 An obsession among "new world" wine producers is to compare their wines to their European equivalents. Around the winemaking fraternity, you hear producers comparing their sauvignon blancs to the Loire. Cobblers, I say. If it's from Marlborough then it should taste like it's from Marlborough.
There's no denying the most famous sauvignon blancs in the world have come from the Loire around the villages of Sancerre and Pouilly Fume (pronounced Poo-ee Fu-may). That's why comparisons are drawn. But the Loire is largely ignored for its greatest contribution to the white wine world: chenin blanc.
Poor old chenin blanc. It would definitely be fighting with riesling to be my favourite white grape variety but walk down any wine aisle, and chenin does not even make the bridesmaid grade.
The Loire and South Africa lead the chenin blanc crusade. New Zealand actually makes a few good chenins each year but there are a paltry 47ha planted compared to 17,000ha of sauvignon blanc. Even pinotage, which is a candidate for the worst variety in the world award, is more planted than delicious chenin.
What an injustice.
Chenin blanc makes wines that smell of crisp green apples, hay and lanolin in youth, and with time in the bottle, those aromas change to honey, quince and brioche. The wines can be anywhere from sparkling to still, dry to sweet, but whatever the style, the variety is always characterised by a lovely weight on the middle of your palate and zingy acidity.
It's also one of the few white wines that benefit from a little bit of in-bottle ageing.
2008 Farmgate Chenin Blanc, Hawke's Bay, $21.95
This must be the only bottle of wine in New Zealand that has the photo of a German man holding a loaf of bread. It seems a bit quirky that a local baker rather than the wine producer is on the label. Nevertheless, this is a delicious combination of apple sauce and marzipan flavours with an appetising creamy texture and ripe acidity on the finish.
2008 Millton Te Arai Vineyard Chenin Blanc, Gisborne, $31-$32, Fine Wine Delivery, Regional Wines & Spirits
A shimmering golden colour draws you into the rich, honeyed, mandarin and nutty nose. Seamless in the mouth with mouthwatering acidity and savoury notes on the finish.
2008 Baumard Clos St Yves, Savennieres, $38.50, Maison Vauron
This wine is all about texture. Creamy on the middle of the palate with crisp acidity, which leaves a minerally, sucking-on-stones sensation on the length.
There's an earthy, lanolin-like character with delicately balanced alcohol.
* Find the wine aisle confusing? Rebecca Gibb's Introduction to Wine course demystifies the world of wine in a relaxed setting.
Swirl, sniff and slurp your way through the major grape varieties and wine regions of the world at The Wine Vault, Grey Lynn, on Saturday, April 9, from 11am to 3.30pm.
Rebecca is offering Detours readers a 40 per cent discount on the course: $99 includes eight wines, a two-course lunch and booklet to take home.
Click on the link to go to the special offer page