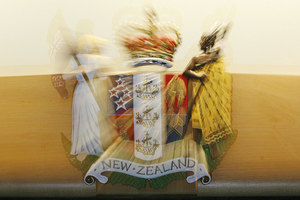 A man who threw a kitten at a tree stump and then assaulted his wife, son and a neighbour, had mixed alcohol and medication with drastic results, the Greymouth District Court heard yesterday.
Stephen Wayne Uren, 62, was sentenced to 100 hours' community work after he admitted charges of ill-treating the kitten, assaulting a woman, unlawfully possessing a .177 calibre air rifle, recklessly discharging the weapon with disregard for the safety of others, and two other assault charges.
Lawyer Eymard Bradley said Uren had over-indulged in alcohol while on medication. The Stillwater man had little memory of the incident and found it hard to accept that he had acted that way, he said.
Judge Robert Murfitt, reading the victim impact report, said Uren's wife also found it hard to accept. "She can't believe that you treated her with such disrespect. You don't work, she works two jobs, carries the load, yet you treat her like this," the judge said.
"You should have known that mixing alcohol and medication was a no-goer but you tend to excuse your behaviour because of that. It's not alcohol that's to blame; you have the ultimate responsibility."
The judge ordered the destruction of the air rifle and its ammunition.