Nescafe 3 in 1 - $3.99 per 180g or 10 sachets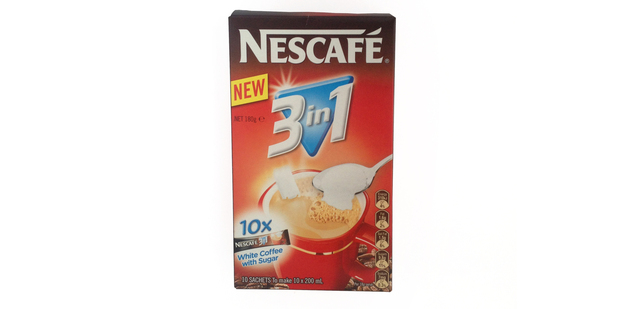 This new product in the supermarket aisles leapt out at me because of its marketing. The word "easy" features on the packet five times and the idea seems to be that instead of making an instant coffee and adding milk and sugar, it is all done for you in one of these sachets.
On the back of the packet is a caricature of a dark-skinned youth who is missing a sock, has mis-matched shoes, has buttoned his cardie up incorrectly, has his T-shirt on back to front and inside out, is yawning and holding a coffee cup. In the background is a dead pot plant. The words "It's hard to rise & shine" feature prominently.
Okay, I get it. This is the coffee you drink when you are absolutely hopeless. Or really cool. Oh, and dark-skinned.

Ingredients (in order of greatest quantity first):
• Sugar - One serving of this sachet will give you just over two teaspoons of sugar or 9.8g.
• Maltodextrin - This is glucose made from starch and is often used in foods as a sweetener.
• Soluble Coffee (10 per cent) - This is instant coffee and at 10 per cent of 18g this means you are getting 1.8 grams or exactly one teaspoon.
• Vegetable oil - This will be in here to replace the fat you would find in milk, should you pour it in your coffee.
• Sodium caseinate (milk protein) - This is a common ingredient in beverage whiteners which Americans use in their coffee, otherwise known as non-dairy creamer or coffee whitener. Sodium caseinate is a lactose-free milk protein.
• Stabilisers (340, 452) - Mineral salts potassium phosphate (340) and diphosphates (452).
• Emulsifier (471) - This is mono and dyglycerides of fatty acids which help keep everything mixed together when you add water and stop the fat separating out from the mixture.
• Anti-caking agent (554) - This is in the powder to stop it caking in the sachet before you use it. This is sodium aluminosilicate.

My recommendations
I'm not a coffee snob and will quite often have a cup of instant with some milk and sugar. But this tastes nothing like it. There is an oily flavour which you do not associate with milk and it lacks a creaminess that only milk can give your coffee. It may be white but there's nothing milky about it.
I'm also not convinced that people who wear their clothes on back to front and kill pot plants are unable to find milk and sugar to add to their coffee. And, if you do add your own milk you are getting the nutritional benefits of that real food as well.
If you run out of milk a lot then keep some powdered milk on hand and you'll be better off.

Highlights
• Uses beverage whitener instead of milk.
• Very sweet - about 2.3 teaspoons of sugar per serve.
• Uses an emulsifier, stabilisers, anti-caking agent, oil and milk protein to replace milk.

• Do you have a food product you would like to feature in Wendyl Wants to Know? Email wendylwantstoknow@gmail.com with suggestions. Unfortunately Wendyl cannot correspond with readers.
Read Wendyl's columns on other food products
here
.