Each week, Wendyl Nissen takes a packaged food item and decodes what the label tells you about its contents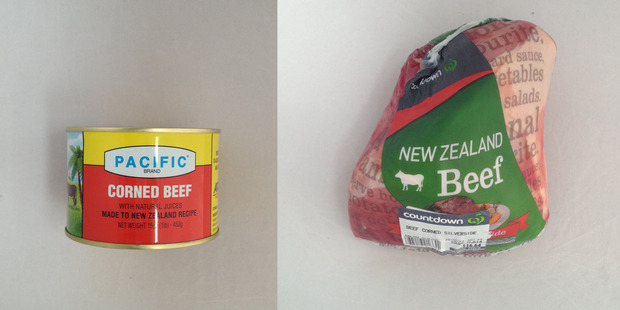 Buying meat in a can is something we used to do more when it was harder to get fresh meat every day.
Bully beef, as it was known in the old days, was the main food for our soldiers at Gallipoli during World War I where they ate it with biscuits and jam. Research has recently revealed this diet was very poor and if we had sent over cans of fruit and vegetables as well they would have been in much better shape to fight.
Pacific Islanders make much more creative use out of a can of corned beef. The Samoans make kapisi pulu which combines the corned beef with coconut cream, tomato and onion in cabbage leaves and then it is slow cooked.
There are so many brands on the shelf that there is obviously quite a demand and therefore people buying it. Yet I always buy raw corned beef and cook it.
So what's best? Fresh corned beef or canned?
Pacific Corned Beef. $7.99 for 453g.
Ingredients
• Beef (98%) - This is great that most of what you get in this can is meat. Because it comes already cooked it has lost much of the water it had in it from the curing process.
• Salt - Any cured meat will be high in salt, you'll get 740mg of sodium per 90g serving.
• Vegetable gums (407,410,412) - These are carrageenan (407), locust bean gum (410) and guar gum (412) all to keep the meat moist in the can.
• Mineral Salt (508) - This is potassium chloride which will have been used in the curing process.
• Preservative (sodium nitrite) - Sodium nitrite is found in most cured meats such as bacon. It is used to inhibit the growth of the bacteria which causes botulism and as a colour fixative, but there is concern that it reacts with stomach acid to form carcinogenic N-nitroso compounds during digestion.
Corned Beef Silverside. $16.64 for 1.514 kg.
Ingredients
Beef (64%) - Not so much beef in this product, mainly because it is uncooked so is still in its cured state, unlike the canned beef.
• Cure (36%) - Water, mineral salts 451, 452, 500. These are diphosphates (451 and 452) and sodium bicarbonate, otherwise known as baking soda.
• Sugar - Not a lot in here so mainly for taste. You'll get 1g of sugar per 100g serve.
• Salt - Higher in salt than the canned beef, probably because it is in its cured state. You'll get 1500mg of sodium per 100g serve.
• Antioxidant (316) - This is sodium erythorbate produced from beetroot and sugarcane.
• Preservative (250) - This is sodium nitrite, as previously.
My recommendations
Both products use sodium nitrite which healthy eaters try to avoid and which some food producers are now phasing out of their products because of health concerns.
The canned corned beef has gums added while the raw corned beef has mineral salts and sugar. So as far as additives go they are fairly equal.
The canned corned beef is made in Australia "to a New Zealand recipe" but the raw corned beef is New Zealand beef.
If you are after a quick meal such as a hash or fritters then a can of corned beef, even though it's a bit more expensive, will give you cooked meat in a hurry.
The raw corned beef on the other hand will take a couple of hours to cook.
Highlights
• Canned corned beef has less salt.
• Both use sodium nitrite as a preservative.
• Raw corned beef will need cooking but is cheaper.
Do you have a food product you would like to feature in Wendyl Wants to Know? Email wendylwantstoknow@gmail.com with suggestions. Unfortunately Wendyl cannot correspond with readers.