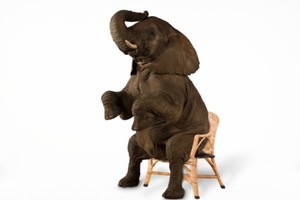 I'm sure we're not the first couple to experience the presence of an elephant in the marital bedroom.
Something real or imagined, which sits in the room and neither of you really want to address it so you step over it, walk around it and fail to mention it. Sometimes for days on end, possibly weeks.
In our case it has been months. Our elephant in the room is a harmless mound of clothes in the corner which actually does resemble an elephant from time to time.
It's a heap of mostly black garments with the occasional blue peeping out and the odd brown gasping for breath.
It's as high as my waist and does its best to remain upright despite trousers thrown on shirts draped on skirts hanging on jumpers and T-shirts fluttering around the edges with the odd nightie tied in between.
"Stop looking at it," I said to my husband as we got ready for bed one night last week.
"Wasn't looking at anything," he replied, gently nudging the mound in an effort to get the curtain drawn behind it without it collapsing all over the floor.
"I'm going to put them away," I said, not meaning a word of it.
"That would be nice," he says. "We have such a lovely bedroom. It's a pity to clutter it up with what seems to be your entire wardrobe."
"It's just that I'm mid-season," I say by way of explanation.
Unlike most of my friends who have large, expansive wardrobes - many of them described as "walk-in" and some of them known as "an entire room" - I simply have an old oak wardrobe circa 1940s.
It's from an era when people only owned three items of clothing: a good dress, a day dress, and a dressing gown. In the old days wardrobe space was not a prerequisite for marital harmony.
So, my clothes have to be seasonally adjusted with half of them disappearing downstairs in plastic boxes laced with cloves and peppermint to ward off moths, while the other half comes upstairs to be squashed into the oak wardrobe the size of two children standing next to each other.
Normally the weather gets colder around this time of the year and so the mid-season clothes swap takes place simply because I can't stand the cold anymore and need my winter woollens.
But that hasn't happened this year. Instead it is still 21C during the day, with a slight chill at night necessitating a quick trip downstairs to grab just a few winter bits and pieces and the realisation once upstairs that I have nowhere to put them.
And so the mound continues to heave and wobble and cause my husband sleepless nights as he waits for it to fall on him like some sort of high-fashion avalanche.
"Don't be stupid," he says, backing out of the room. "How ridiculous, a mound of black, blue and brown clothes doing that."
He's just lucky I wear the same pair of Chuck Taylor shoes every day otherwise the clothes mound would be accompanied by its good friend the shoe tree.
"You are most welcome to build me a walk-in wardrobe anytime you like," I suggest helpfully.
Meanwhile, despite my clothing mound crisis I have been pretending winter is here anyway. The firewood has been ordered and cosy fires are lit every night at sundown.
Loaves of steaming hot bread are being baked to accompany solid, sturdy slow-cooked soups and stews and I have neglected my garden, reasoning that it is far too cold to grow anything despite my neighbours still having tomatoes on their vines.
"Mind if I open a window?" say all the children at some stage if they are home long enough to feel the winter warmth.
"Probably manage without the fire tonight," suggests my husband hopefully most nights.
"Don't be ridiculous, it's winter!" I say before delving into my clothes mound and changing into a T-shirt and shorts.
I'm stopped by the sound of hammering and wood being lugged around outside. I step outside to see my husband assembling our precious firewood into a rough and very large cube shape.
"What on earth are you doing?" I ask.
"Making you that wardrobe you've always wanted," he says.
"You won't mind having to pop outside to get your clothes, will you?"