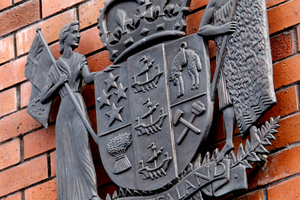 A woman found not guilty of manslaughter after her unattended son drowned in a bath says the verdict has restored her faith in the justice system.
A jury of seven men and five women returned with the verdict at the High Court in Wellington after just over two hours of deliberation.
Last November the mother's 13-month-old son was found lying face down in 18cm to 19cm of water by his mother, who said she had been distracted by speaking on the phone to her mother.
She denied a charge of manslaughter and her lawyer argued the death was a terrible accident.
The Crown's case was there was a major departure of care expected by the mother that led to his death.
About a dozen family and friends have supported the woman throughout the three-day trial.
After the verdict was read out there were emotional scenes in the public gallery, with supporters crying and hugging the mother.
Outside court, the mother said her faith in the justice system had been restored.
"I feel that it's so good that it's over and we can focus on his life now rather than the circumstances surrounding his death."
She said that when she was charged she did not know if she was guilty of manslaughter, so was never angry that the charge was laid.
"I had no idea at the beginning myself whether I had crossed that line into the area of guilty by law.
"But as time went by I felt that morally I was not guilty."
Numerous supporters always believed in her, she said.
She was concerned other parents should learn about the way young children drown.
"They slip under and they go peaceful and still - if we slipped under we would stick our arms out."
The woman's mother said it was a "huge relief" the case had finally come to a close.
"It's been hard on her but it's wonderful for all of us to close this part of the whole sad tale."
She said police explained to them they had no choice about the charge they laid against her daughter.
``We were shocked but it was explained to us that it had to be given because of new legislation that there is against negligence and child deaths and I accept that is a huge issue.
"The police did what they had to do."
The trial had been a "small thing" in comparison to the grief they had gone through.
Tonight the family would buy a lot of lollies and wait for Halloween revellers to knock on the door "and have a very quiet night".