A bracing southerly rushing over New Zealand this morning - bringing storms, gales, snow, and hail - will be a short, sharp cold snap, weather forecasters say.
Coming after a spell of sunny and calm weather earlier this week, today's cold front is a "text book example" of spring weather, rather than a return of winter, according to WeatherWatch head weather analyst Philip Duncan.
Southerly gales are battering central New Zealand today, with MetService issuing a warning for Marlborough, Wellington, Kapiti and Taranaki.
Severe gales, peaking this evening, are also possible for Buller, the South Wairarapa coast and Wanganui.
Showers are already this morning making their way into the North Island, while rain, heavy at times, is moving up both sides of the South Island.
Forecasters say the showers will ease this evening and clear overnight with plenty of dry spells in between.
The short blast is expected to subside tomorrow, but not before snowflakes fall as low as 100 metres in Southland and Otago, and in the Canterbury foothills north of Methven to 200m.
Small and isolated snow showers are possible in Dunedin above 100m, while small hail is predicted for many of the South Island main centres.
However, Mr Duncan says: "This is a very short-lived cold snap."
"For those in the deep south it will last just 18 to 24 hours before lighter winds and warmer air returns," he said.
For the lower North Island, snow is expected to lower to about 500m overnight from about the central plateau southwards, with the MetService advising of the possibility of accumulations approaching warning criteria above 800m about Taihape, Mt Taranaki and the ranges of Hawkes Bay from midnight tonight through to midday Thursday.
"People are advised that snow is likely to affect the higher level roads of both islands, and drivers are urged to exercise caution," says MetService forecaster Rochelle Fleming.
"In addition, strong, bitterly cold southerlies are likely to cause stress to vulnerable stock and make outdoor pursuits hazardous."
Forecasters will continue to monitor the situation and people in higher altitudes are advised to stay up to date with the latest forecasts, in case further watches or warnings are issued.
Single digit highs are predicted in parts of Southland, Otago and Canterbury today.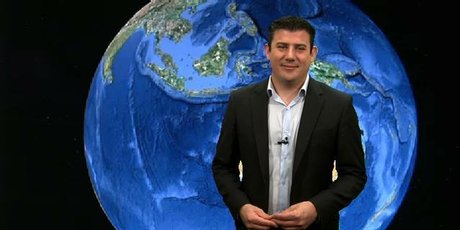 Mr Duncan said it was "typical spring weather".
"Spring is all about regular reminders of winter coupled with increasing hints of summer," he said.
Westerlies spring back into the forecast this Friday and weekend, bringing a mixed bag of weather, according to WeatherWatch: "Moody, changeable, sometimes warm sometimes cold, sometimes dry, sometimes icy and wet - these are the spring westerlies and they arrive tomorrow."
Send your weather-related stories, photos or video here.