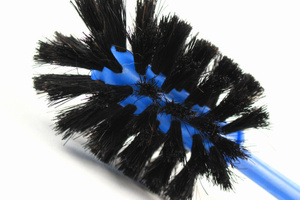 A woman who struck a cowering 10-year-old child over the head with a toilet brush in one of a string of assaults has been sentenced to supervision and community work.
The 41-year-old Chinese national, whose name and relationship to the child cannot be revealed, relied on an interpreter as she was sentenced in Wellington District Court today.
She earlier pleaded guilty to two charges of assault with a weapon and one charge of assaulting a child.
Judge Anne Gaskell painted a stark picture of the numerous assaults the woman carried out over a 13 month period up to last February.
"Sometimes you punched her or dragged her by her hair. You kicked her in the leg.
"On one occasion you hit her her on the head with a toilet brush handle. The girl crouched down to protect herself from you and you hit her again on the head."
The girl suffered cuts to the head that required hospital treatment.
On another occasion, the woman hit the girl on the back of the legs, without warning, with the handle of a bathroom plunger.
"The girl suffered pain, swelling and bruising after these various assaults and sometimes her hair fell out."
The woman told police that physical discipline was considered normal in China and her intention was to scare and educate the child.
Defence lawyer Amanda Courtney said her client had remorse and understood violence against children was unacceptable.
Physical punishment was not the norm in China but the woman's own upbringing was marked by similar incidents of discipline, said Ms Courtney.
She said the woman, who had suffered cancer, has since been undergoing personal and relationship counselling.
Judge Gaskell said the woman had taken advantage of the relationship of trust she had with the "vulnerable and defenceless" girl.
The woman no longer had contact with the child.
"I am told she does not miss you."
Judge Gaskell sentenced the woman to 150 hours community work, to be undertaken with a Chinese group due to the language barrier, and 12 months supervision.
The woman cannot see the girl, now 12, without written permission. She must also undergo counselling as directed.
It was unclear if the woman, whose New Zealand visa was due to expire on May 10, would remain in New Zealand.
Judge Gaskell suppressed the nature of the woman's relationship to the girl but denied name suppression.
However, the woman cannot be named because Ms Courtney indicated she would appeal the decision.