Justin Newcombe pays tribute to the World Cup by incorporating rugby posts in his garden.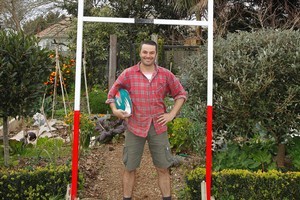 I know this project is in danger of verging into tasteless before I even start, but you can't let the country's biggest sporting event of all time go by and pretend it isn't happening.
Rugby World Cup comes right at the beginning of spring so is a once in a lifetime opportunity to celebrate our national game in the garden with something that is sadly lacking in the modern sport - spontaneity.
Although rugbymania and gardening are not natural bedfellows it will be a long, long time before New Zealand gets the opportunity to host such an event again. So a few rugby references in your garden this spring will provide a candour which might be undesirable every other year but is right on the money this spring.
I have decided on a goal post garden entrance-way as a little monument to this fantastic event. I wanted to have a little fun with the colours but maintain the strong resemblance to rugby posts so I painted the tops of the posts with gold paint and attached some small flags.
The crossbar, of course, needed to have the black dot on it and I went for red around the base of the posts. The posts make an excellent frame for growing sweet peas or runner beans and could even take a cucurbit crop such as cucumber.
To carry on the theme, you could paint some white lines on your lawn or grow this season's peas on replica corner flags. A series of smaller posts would do a good job for your tomatoes or kumara vines.
In all honesty I haven't been the most enthusiastic rugby supporter in the past 20 years, but the Rugby World Cup in New Zealand is a totally different kettle of fish. Auckland is the biggest Pasifika city in the world and this week we've been reminded of the spontaneity and fun of our long rugby heritage - a refreshing change which deserves a place in my garden, at least for now.
Step 1
Paint two long lengths of 50x50mm timber, and one shorter one, white. I gave mine two coats of white paint.
Step 2
Drill a hole in the top just big enough to insert a couple of small flags.
Step 3
Paint or decorate your posts. To get reasonably neat lines I masked off the painted areas. I maintained the utilitarian look of my posts and went for a pretty conservative paint job with gold tops, red bottoms and a black mark on the cross bar but don't be put off by that. If you love colour then go for it.
Step 4
Once your posts are dry raise and brace each upright. Use a level to get them straight
Step 5
Attach the crossbar, again using a level to get it straight.
Step 6
Let the games begin.