Make a young'un happy or break out your own inner teenager and design and make a skateboard, writes Justin Newcombe.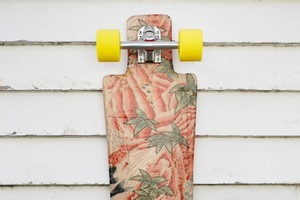 When we had kids, I made a pledge to keep surfing at least once a week. As it turned out I surfed four times in eight years. Not that I minded, I mostly have as good a time just being a dad. I did however find myself skateboarding to the dairy or to school to pick up the kids, on a cheap board I bought years ago.
Now my kids are interested in skating, it's time for an upgrade. I had definite ideas about the qualities I wanted in my new board and I made a makeshift press so I could laminate the thin sheets of ply into the board shape I wanted.
Truck size, wheel hardness and bearings are important to getting the performance and feel required. I needed help with this and phoned a few old surfing buddies (long time no sea). I was given Simon at Hyper as a contact.
I told him how I wanted to skate and he basically set me up. He also showed me the long boards he had in stock and after this conversation I changed my design from a pin-tail to the more unusual dervish style (see hyper.co.nz).
Part of the skateboard tradition is the back design. Most of these have a street feel but that's not exactly me anymore so I used a piece of material from my wife's old dressing gown (which was a gift from me). The pattern is strong without being edgy and by using these scraps of sentiment, my new board has a personal beauty which makes it all the more enjoyable to ride.
Step 1
Make a template using MDF or cardboard. Make one side only. The template is flipped over to create a perfectly balanced shape.
Step 2
Work out your desired shape and on a work-bench make a mould into which you can press the thin ply. Draw a centre line to match the ply to.
Step 3
Cut four pieces of 3mm ply into rectangles. Allow 100mm of excess outside the board shape. Draw a centre line on each piece to match the line in the press.
Step 4
Apply a glue or epoxy layer over two sheets.
Step 5
Press them into the mould using clamps and heavy timber. I used glue on my first layer but epoxy and fibreglass cloth on the rest. This gave my board a lot more strength. Let this layer dry, then repeat (if you do all the layers together you get "spring back" and the board won't be true to the mould).
Step 6
Use your template to draw your board shape.
Step 7
Cut out with a jigsaw, leaving 10mm excess, then finish with a sander.
Step 8
Use a scribe and a centre line to work out the exact position of the trucks. These must be dead straight.
Step 9
On the back of the board laminate your wife's dressing gown or paint or draw a design. Apply epoxy over the top. Finish the edges with a sander.
Step 10
Drill, assemble and fix wheels.
Step 11
Use tread tape to give the deck good grip. I'm doing a pattern in glue and covering it with sand. A little trick I learned at kindy.
DIY workshops at your local Bunnings Warehouse this weekend
Saturday: 10am: Children's Day colouring competition; 11am: How to build a picket or panel fence; 1pm: How to revitalise your lawn.
Sunday: 10am: Children's Day colouring competition; 11am: How to child-proof your house; 1pm: How to build a swing set.