If you're looking for a new trellis for your garden, a sleeper screen is a simple and attractive option that gives a feeling of open space while creating a sense of enclosure, says Justin Newcombe.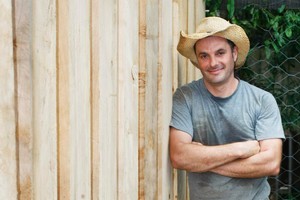 A gardener's garden is usually about plants - lots of lovely plants for eating, smelling or admiring. However, all this softness needs to be anchored to some sort of reference point, something for all that charm to bounce off. When I needed to replace an old trellis screen I set my sights on something not so easily swamped in a pool of foliage.
Block and plaster is an option, but can be loud. Like using a sledgehammer to crack a nut, it can smack you in the eye - it's a demanding material. Stone certainly encourages demeanour over proclamation and next time I've got 10 weekends up my sleeve I'll consider it. Lastly, being Mr Fussy Pants, I didn't want a solid unit like a fence. Closing things up just makes a property feel smaller and it's something I try hard to avoid.
With all these options in the background a sleeper screen stands out as a winner, and the process of erecting one is relatively quick. Digging the trench takes the most time, and to save your back I recommend a long handled spade or shovel with a small head. I've been digging ditches, holes, patios and gardens for the last 20 years and I hardly ever use short-handled tools anymore.
The smaller head makes cutting and scooping more manageable.
The gaps in the sleepers give a feeling of open space, acting as long frames, allowing a view of the garden while the sleepers themselves create a sense of enclosure. Not much point having a cake if you can't eat it too.
Step 1
Place a string line where you want your screen to go. Peg it out further than the point you want to start and finish.
Step 2
Dig a trench 600mm deep and 300mm wide. Make sure the sides are clean and you remove all of the spoil from the bottom of the trench.
Step 3
Place the two end sleepers into the trench and brace. Check they're level and line up with the string.
Step 4
Nail or clamp a straight fence rail near the top and bottom of the two end sleepers.
Step 5
Install the next sleeper into the trench. Use a spacer to create the gap between the first and second sleeper. Nail the sleeper to the fence rail then check it is level.
Step 6
Repeat until finished.
Step 7
Mix concrete and pour into the trench. Make the mix slightly on the runny side so it slumps right around the sleepers as it is poured. Fill the trench to the top.
Step 8
Once the concrete is set (try to give it a week if you can) remove the rails and braces, Then run a string line across the top and mark out a level line. Trim each sleeper with a skill saw. Sand and finish the edges of each sleeper.
DIY workshops at your local Bunnings Warehouse this weekend:
Saturday: 10am: Kids' garden-themed DIY workshop; 11am: How to build your own shelving; 1pm: How to fix a leaky tap.
Sunday: 10am: Kids' garden-themed DIY workshop; 11am: How to plant and maintain a hedge; 1pm: How to gibstop.