Justin Newcombe makes his own canoe and couldn't be more pleased with the results.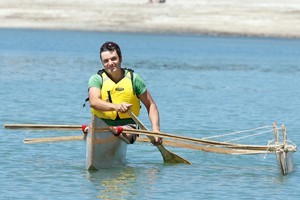 I've never built a boat or canoe before. In fact I've never been in a canoe but I really like being on the water and wanted an easy way to get there. I wanted something light, that I could transport on a car roof-rack, and that would store easily, so designed my own based on a Polynesian outrigger.
I'm too optimistic with timelines, way too optimistic, and I grossly underestimated the amount of work involved, but it was all worth it once I launched and was paddling round Okahu Bay.
I built my canoe indoors and got hold of a decent vacuum to keep the dust down, making construction bearable. The main photo on this page was taken the first time I'd put my untried boat on the water and it was a nervous 15-minute set-up before launch.
So I wasn't prepared for the feeling of awesomeness as my canoe glided, yes glided out onto the water.
I almost forgot to mention my paddle, that's because I almost forgot to make one.
This is the most satisfying project I've built and although it was time consuming it's everything I dreamed it would be. It's easy to paddle, stable and easy to move about. A great family asset that really has lived up to my titanic expectations.
Step 1
Using 10mm strips, start forming the hull shape. Once you have finalised your design measure, make a template out of mdf. One template does both sides.
Step 2
Trace the template on to hardwood ply. I used 4mm ply to keep things really light. Placing one sheet on to another, cut with a hand saw. Each side of my canoe is exactly the same.
Step 3
Cut 50mm wide strips of 12mm ply to fit the length of the top and bottom of each section; laminate using epoxy. This makes each section rigid.
Step 4
Clamp the ends together and place a spacer in the middle to keep the sections apart. Keeping in mind where you will sit, measure and cut out the partitions or bulkheads. I installed four of these which kept the shape of the hull.
Step 5
Cut a rectangle strip to fit across the bottom, then trace around the hull sections to get the floor shape. Resin into place.
Step 6
Wrap the hull tightly in fibreglass cloth, then coat with epoxy. Mix the resin in small amounts and start by pouring on to the canoe, working it to the edges. It is critical to get all of the air out of the epoxy. Don't overwork the corners and edges - it's easy to take too much epoxy from those areas.
Step 7
Allow to dry then sand lightly. Try not to sand through the mesh. Flip the hull over and resin the inside.
Step 8
Attach decks and a 20mm rail around the outside of the cock pit. This will help the canoe keep its shape.
Step 9
The outrigger is made using the same process. Each arm is three strips of 12mm ply laminated into shape then bound to the canoe and the outrigger.
Step 10
I'll paint my canoe when I get time. See Bunnings for the specialist paint required.
* Thanks to Patrick at Ferg's Kayaks for lending me a lifejacket.